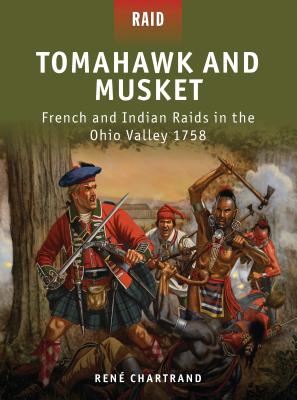 Tomahawk and Musket: French and Indian Raids in the Ohio Valley 1758 (Paperback)
French and Indian Raids in the Ohio Valley 1758
Osprey Publishing (UK), 9781849085649, 80pp.
Publication Date: January 24, 2012
Description
In 1758, at the height of the French and Indian War, British Brigadier General John Forbes led his army on a methodical advance against Fort Duquesene, French headquarters in the Ohio valley. As his army closed in upon the fort, he sent Major Grant of the 77th Highlanders and 850 men on a reconnaissance in force against the fort. The French, alerted to this move, launched their own counter-raid. 500 French and Canadians, backed by 500 Indian allies, ambushed the highlanders and sent them fleeing back to the main army. With the success of that operation, the French planned their own raid against the English encampment at Fort Ligonier less than fifty miles away. With only 600 men, against an enemy strength of 4,000, the French & Amerindians launched a daring night attack on the heart of the enemy encampment. This book tells the complete story of these ambitious raids and counter-raids, giving in-depth detail on the forces, terrain, and tactics.
About the Author
Rene Chartrand was born in Montreal and educated in Canada, the United States and the Bahamas. A senior curator with Canada's National Historic Sites for nearly three decades, he is now a freelance writer and historical consultant. He has written numerous articles and books including over 30 Osprey titles. He lives in Gatineau, Quebec, with his wife and two sons.
Advertisement