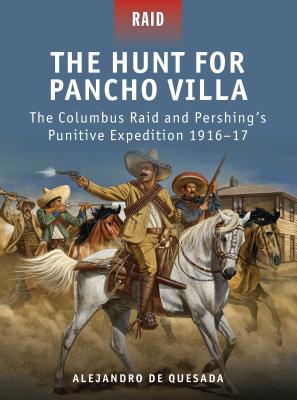 The Hunt for Pancho Villa: The Columbus Raid and Pershing's Punitive Expedition 1916-17 (Paperback)
The Columbus Raid and Pershing's Punitive Expedition 1916-17
Osprey Publishing (UK), 9781849085687, 80pp.
Publication Date: March 20, 2012
Description
On March 9, 1916, troops under the command of Pancho Villa attacked Columbus, New Mexico and its local detachment of the US 13th Cavalry Regiment, killing 18 people and burning the town. Six days later, on orders from President Woodrow Wilson, General John J. "Black Jack" Pershing led an expeditionary force of 4,800 men into Mexico to capture Villa. What followed was a series of skirmishes, battles, and chases through the wild and uncharted Mexican countryside. While the Americans failed in their ultimate purpose of catching Villa, they did kill two of his top lieutenants. This book charts the progress of the entire enterprise, covering the dusty marches and the bitter gunfights in the streets of small border towns, analyzing the successes and failures of this unique military expedition.
About the Author
Alejandro de Quesada is a Florida-based military history writer, an experienced researcher and collector of militaria, photos and documents, who runs an archive and historical consultancy for museums and films as a secondary business. He has written over 100 articles and over 25 books, including several for Osprey, and is a leading authority on Latin American subjects.
Praise For The Hunt for Pancho Villa: The Columbus Raid and Pershing's Punitive Expedition 1916-17…
"Military historian Alejandro De Quesada delivers an absorbing account of Villa's reasons for invading the United States ... the author's text is accompanied by detailed maps, grerat photographs and drawings of the personalities, weapons and equipment each side used at that time."
--Al Hemingway, Military Heritage (October 2012)

" I utterly enjoyed The Hunt for Pancho Villa. Photos, annotations, maps, sidebars, illustrations and index augment this enthralling effort. Read it with OSPREY's equally interesting The Mexican Revolution 1910-20 (Elite 137). Robustly recommended."
--David L. Veres, www.cybermodeler.com
Advertisement