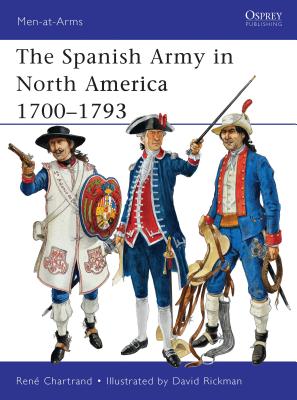 The Spanish Army in North America 1700-1793 (Paperback)
Osprey Publishing (UK), 9781849085977, 48pp.
Publication Date: November 22, 2011
Description
A classic Men-at-Arms title detailing a major chapter in American military history. North American colonial history can broadly be divided into 'New France', 'New England' and 'New Spain. The latter covered a vast expanse of land from California to the whole of the south-west and south including modern-day Florida, Arizona, Nevada, New Mexico, Texas, Alabama, Mississippi and Illinois. Spanish America played a significant role in British and American campaigns in particular the American Revolution. Spanish units fought against the British throughout the Revolution providing a major distraction to the British forces and helping in some way to ensure the eventual success of the colonials.
Rene Chartrand is an international authority on the subject, he has amassed an array of original archival documents and illustrations to provide a fresh perspective on the key units and actions throughout the continent. In particular, he has provided a detailed listing of exactly where Spanish units were raised and based including major forts and places of interest to visit. Interest in Spanish American history is on the increase and this is a timely discussion of an aspect of American military history which is too often overlooked.
About the Author
Rene Chartrand was born in Montreal and educated in Canada, the United States and the Bahamas. A senior curator with Canada's National Historic Sites for nearly three decades, he is now a freelance writer and historical consultant. He has written numerous articles and books including over 30 Osprey titles. He lives in Gatineau, Quebec, with his wife and two sons.
Advertisement