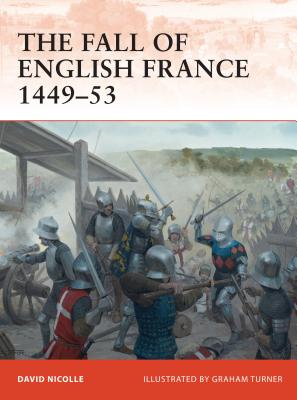 The Fall of English France 1449-53 (Paperback)
Osprey Publishing (UK), 9781849086165, 96pp.
Publication Date: February 21, 2012
* Individual store prices may vary.
or
Not Currently Available for Direct Purchase
Description
For the overwhelming majority of people outside the French-speaking world the Hundred Years War consisted of a sequence of major English victories, above all Crecy, Poitiers and Agincourt. The only significant victor or 'hero' on the French side was Joan of Arc, and she ended up being burned at the stake. Yet somehow the war ended in a French victory and with England's martial energies being turned against itself in the Wars of the Roses. This book is intended to provide some balance. It will describe the campaign that brought the Hundred Years War to a close, with English possessions being confined to Calais and the Channel Islands. It will also explain how the somewhat unprepossessing and unmartial King Charles VII of France succeeded where his predecessors had failed. The campaign consisted of more than battles, of course, but it was marked by two major victories - at Formigny in 1450 and at Castillon in 1453. Formigny is of special interest because it saw French cavalry defeat English archers, in effect a reversal of Crecy, Poitiers and Agincourt, and could be interpreted as one of the last 'medieval' battles. Castillon is of interest because it was a victory of gunpowder artillery in fixed positions over a traditional medieval assault by mixed infantry and cavalry, and thus could be interpreted as one of the first 'modern' battles.
About the Author
Born in 1944, David Nicolle worked in the BBC's Arabic service for a number of years before gaining an MA from the School of Oriental and African Studies, London, and a doctorate from Edinburgh University. He has written numerous books and articles on medieval and Islamic warfare, and has been a prolific author of Osprey titles for many years.
Praise For The Fall of English France 1449-53…
"...provides a fine narrowed focus on the battles of Formigny and Castillon which represented a change in how warfare was perceived and fought, and is a pick for any collection strong in medieval European history."
--James A. Cox, The Midwest Book Review (August 2012)
Advertisement