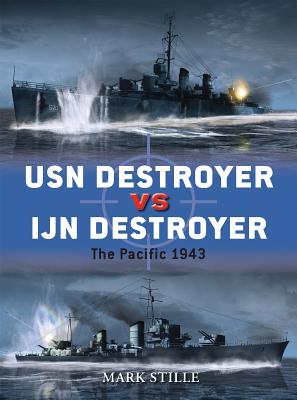 USN Destroyer Vs IJN Destroyer: The Pacific 1943 (Paperback)
The Pacific 1943
Osprey Publishing (UK), 9781849086233, 80pp.
Publication Date: November 20, 2012
* Individual store prices may vary.
or
Not Currently Available for Direct Purchase
Description
This book will cover the fierce night naval battles fought after Guadalcanal between the US Navy and the Imperial Japanese Navy during late 1943 as the Allies advanced slowly up the Solomons Islands toward the major Japanese naval base at Rabaul. During this period, several vicious actions were fought around the American beachheads on the islands of New Georgia, Kolombangara and Vella Lavella in the central Solomons. These battles featured the most modern destroyers of both navies. Throughout most of 1942, the Imperial Navy had held a marked edge in night-fighting during the six-month long struggle for Guadalcanal. A key ingredient of these Japanese successes was their destroyer force which combined superior training and tactics with the most capable torpedo in the world, known to the Allies as the "Long Lance." Even into 1943, at the battles of Kula Gulf and Kolombangara, mixed Allied light cruiser/destroyer forces were roughly handled by Japanese destroyers. After these battles, the Americans decided to stop chasing Japanese destroyers with cruisers so the remainder of the battles in 1943 (with one exception) were classic destroyer duels. The Americans still enjoyed the technical edge provided to them by radar, and now added new, more aggressive tactics. After four more destroyer duels during the second half of 1943, the final result was the defeat of the Imperial Navy's finely trained destroyer force and the demonstration that the Japanese were unable to stop the Allies' advance.
About the Author
Mark E. Stille (Commander, United States Navy, retired) received his BA in History from the University of Maryland and also holds an MA from the Naval War College. He has worked in the intelligence community for 30 years including tours on the faculty of the Naval War College, on the Joint Staff and on US Navy ships. He is currently a senior analyst working in the Washington DC area. He is the author of numerous Osprey titles, focusing on naval history in the Pacific. He is also the author of several wargames.
Praise For USN Destroyer Vs IJN Destroyer: The Pacific 1943…
"Provides a fine history of the arena of destroyers in the Pacific War during 1943, where night battles were a technological and strategis challenge on both sides"
- The Midwest Book Review (February 2013)

"This illuminating installment in Osprey's acclaimed "Duel" series recaps four vicious night actions between US Navy and Imperial Japanese Navy destroyers in late 1943."
- David L. Veres, www.cybermodeler.com (July 2013)
Advertisement