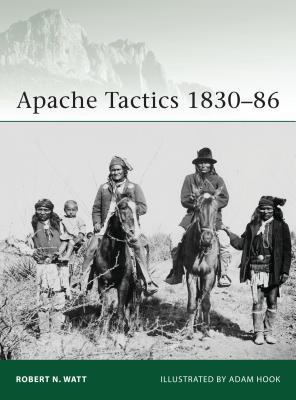 Apache Tactics 1830-86 (Paperback)
Osprey Publishing (UK), 9781849086301, 64pp.
Publication Date: January 24, 2012
Description
The Apache culture of the latter half of the 19th century blended together the lifestyles of the Great Plains, Great Basin and the South-West, but it was their warfare that captured the imagination. This book reveals the skillful tactics of the Apache people as they raided and eluded the much larger and better-equipped US government forces. Drawing on primary research conducted in the deserts of New Mexico and Arizona, this book reveals the small-unit warfare of the Apache tribes as they attempted to preserve their freedom, and in particular the actions of the most famous member of the Apache tribes - Geronimo.
About the Author
Dr Robert Watt is a lecturer at the University of Birmingham where he teaches a course on the Indian Wars for the History Department. He has previously published a number of articles for American history journals on both the Apaches and their campaigns throughout the 19th century and has travelled widely throughout Arizona and Mexico researching the subject.
Praise For Apache Tactics 1830-86…
"In No. 199 of Osprey's Elite series, author Watt, resident expert on American Indian wars at the University of Birmingham, England, presents in 64 pages an English military expert's distillation of the tactics and weapons the Apaches employed against their various adversaries."
--Jon Guttman, Wild West (December 2012)
Advertisement