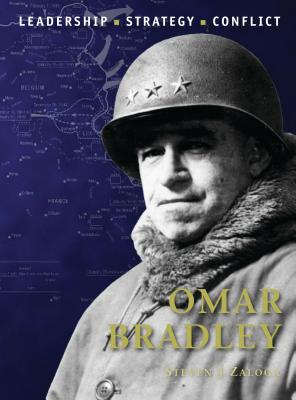 Omar Bradley (Paperback)
Osprey Publishing (UK), 9781849086608, 64pp.
Publication Date: May 22, 2012
* Individual store prices may vary.
or
Not Currently Available for Direct Purchase
Description
General Omar Bradley was the premier US Army tactical commander in the European Theater of Operations in 1944-45. A West Point classmate of Dwight Eisenhower, Bradley was the quintessential US field commander of World War II, elevated to high command with little combat experience but a solid track record as a skilled planner and organizer. Bradley was part of a small cadre of highly skilled young officers groomed for higher command in the austere and bankrupt 1930s. Bradley began World War II in creating the new 82nd Division which would go on to fame as one of the US Army's premier airborne divisions. Bradley spent most of the early years of the war in George Patton's shadow, first as an assistant corps commander under Patton in Tunisia in early 1943, then as a corps commander under Patton on Sicily in July 1943. Patton's social blunders pushed him out of contention for the coveted spot leading the First US Army on D-Day, and Bradley's sterling performance on Sicily won him the position.
Bradley was at the center of nearly all the major US Army victories in 1944-45 from D-Day through the final push into Germany. After commanding the US First Army in Normandy, Bradley was elevated to the command of the 12th Army Group, which contained the three main American field armies in the autumn of 1944. Along with that combat record came a string of controversies. Bradley's great victories like Operation Cobra in July-August 1944 were brought in to question by more dubious campaigns such as the miserable battles for the Hurtgen forest and the lesser-known Operation Queen in the autumn of 1944. Bradley's greatest blunder, failing to anticipate the German offensive in the Ardennes, was counter-balanced by a vigorous and skilled response which fatally injured the German army in the West. Beyond the performance of the US Army in the ETO, Bradley was also intimately wrapped up in other controversies, especially the internecine squabbles with his British counterpart, Bernard Montgomery.
About the Author
Steven J Zaloga received his BA in History from Union College and his MA from Columbia University. He has worked as an analyst in the aerospace industry for over two decades, covering missile systems and the international arms trade, and has served with the Institute for Defense Analyses, a federal think-tank. He is the author of numerous books on military technology and military history, with an accent on the US Army in World War II as well as Russia and the former Soviet Union.
Advertisement