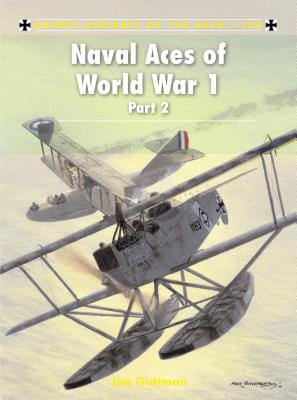 Naval Aces of World War 1 Part 2 (Paperback)
Osprey Publishing (UK), 9781849086646, 96pp.
Publication Date: May 22, 2012
* Individual store prices may vary.
or
Not Currently Available for Direct Purchase
Description
Part 2 of Naval Aces looks at the many flying Naval heroes who flew alongside or against those of the Royal Naval Air Service (RNAS). While the RNAS operated its own formidable arsenal of Nieuport and Sopwith scouts over the Flanders coast, the German navy countered with its own Land Feld Jagdstaffeln and Seefront Staffeln. In addition, German floatplane units, most notably at Zeebrugge, produced at least three aces of their own at the expense of British flying boats, airships and other patrol craft. Unique to World War 1 was the use of flying boats as fighters in combat, which figured at least partially in the scores of Russian aces Aleksandr de Seversky and Mikhail Safanov. Austrian ace Gottfried Banfield scored all nine of his victories in flying boats and Friedrich Lang claimed two of his total of five in one. The best flying boat fighter, however, was Italy's Macchi M 5, flown by three aces and also the mount of Charles H Hammann, the first American to earn the Medal of Honor in aerial combat. Also unique were the sole US Navy ace, David Ingalls, who scored his six victories while attached to No 213 Sqn RAF, and Greek ace Artitides Moraitinis, credited with nine victories over Salonika and the Dardanelles.
About the Author
A resident of Leesburg, Virginia, Jon Guttman is research director and contributing writer for Weider History Publications. Specialising in World War 1 aviation, he has written 19 titles in the past, including SPAD VII Aces of WW1, SPAD XII/XIII Aces of WW1, Balloon Buster Aces of World War 1, Bristol Fighter Aces of World War 1 and Pusher Aces of World War 1 in the Osprey Aces series; SPA124 Lafayette Escadrille, Groupe de Combat 12 'Les Cigognes' and 1st Pursuit Group, USAS in the Aviation Elite Units series; and Sopwith Camel vs Fokker Dr I 1917-18, SPAD XIII vs Fokker D VII 1917-18 and SE 5/5A vs Albatros D V 1917-18 in Osprey's Duel series.
Praise For Naval Aces of World War 1 Part 2…
"Part 1 mainly focuses on Britiain's Royal Naval Air Service (RNAS), while Part 2 covers the remainder, including Germany, Russia, Austria-Hungary, Italy and Greece ... These new additions to the "Aircraft of the Aces" series will offer enthusiasts and modelers a wide range of types and markings for future projects, Having watched Osprey's growing list of such works for more than 16 years, I can say that these two books are packed with the most fascinating details I have yet seen."
--Peter B. Mersky, Aviation History (November 2012)

"The author, an expert on WWI aviation and a prolific writer for Osprey, has produced a superb. well-written and interesting book about ... naval aviation activities [of Germany, Austria-Hungary, Russia, Italy, Greece and the United States]."
--Doug Siegfried, The Hook (Fall 2012)

"Guttman's books illuminate a littleknown portion of First World War aviation history. With the exception of Raymond Collishaw and perhaps one or two other aces, the naval aces of the Great War have taken a deep back seat to their colleagues in other air services. Thus, the need for a
study of First World War naval aces is evident and has been well fulfilled by these works. The novice to this subject will find these books to be a valuable introduction, while the expert will consider them an excellent resource."
--The Northern Mariner (January 2013)
Advertisement