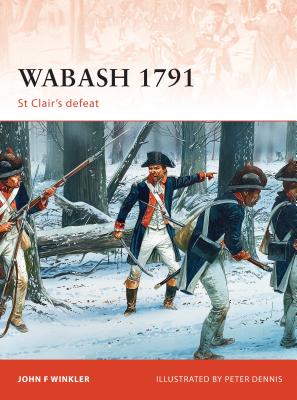 Wabash 1791: St Clair's Defeat (Paperback)
St Clair's Defeat
Osprey Publishing (UK), 9781849086769, 96pp.
Publication Date: November 22, 2011
Description
Osprey's Campaign title for the battle that marked Major General Arthur St. Clair's downfall in the Northwest Indian War (1785-1795). In 1791, the US Army conducted its first important operation. St. Clair led an American army of about 2,000 into what now is Ohio. On 4 November 1791, the campaign ended in what was, in proportion to the size of the US Army at the time, by far the greatest disaster in American military history. At the battle of the Wabash, also known as St. Clair's Defeat, more Americans died than in any prior battle, more than would fall on any field prior to the Civil War. In the tactical masterpiece of their military history, an Indian army destroyed a force that was larger, encamped on high ground, supported by artillery, and led by many of the best American officers of the Revolutionary War. This highly illustrated and detailed title illuminates all aspects of this historic campaign.
About the Author
John F. Winkler lives in Columbus, Ohio, with his wife of more than 40 years. They have 3 children and 6 grandchildren. He has written many works on the history of Roman, English and American law. He also explores forgotten historical sites in Ohio and neighboring states.
Praise For Wabash 1791: St Clair's Defeat…
"Author John F. Winkler expertly examines the Army's controversial calamity, analyzing what went wrong and how the Indians scored such a complete victory. Superb color plates by Peter
Dennis depicting woodlands combat are complemented by period illustrations, maps and photos showing everything from artifacts and re-enactors to the present-day site of the clash. This concise, 96-page book is a fascinating look at a relatively little-known battle, especially considering how the Army suffered triple the number of casualties at the Wabash than were much more famously slaughtered by the Sioux and their allies at Custer's Last Stand in 1876."
- Toy Soldier & Model Figure (April 2013)
Advertisement