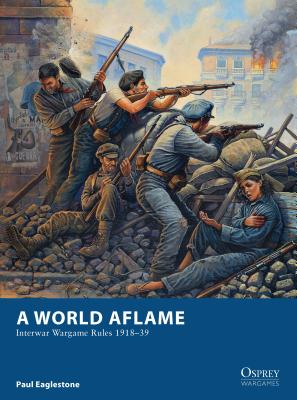 A World Aflame: Interwar Wargame Rules 1918-39 (Paperback)
Interwar Wargame Rules 1918-39
Osprey Publishing (UK), 9781849086820, 64pp.
Publication Date: August 21, 2012
* Individual store prices may vary.
or
Not Currently Available for Direct Purchase
Description
Often called the "Pulp Era," the years between the two World Wars have seen a tremendous surge in interest among wargamers. A World Aflame captures the adventurous nature of the time period to present a fun, fast-paced set of tabletop miniatures rules that can handle the many diverse conflicts of the period, from the Chinese Civil Wars and the "Great Game" in Central Asia, to the Irish War of Independence and the bitter ideological warfare of the Russian and Spanish Civil Wars. The rules also contain options for the "Very British Civil War." This gaming trend has sprung up in recent years, following a "what-if" scenario that has Edward VIII refusing to abdicate the throne, thrusting the country into civil war in 1938. It is a quirky, fun setting, and one that is surprisingly popular. Written by a life-long wargamer, A World Aflame focuses on the daring-do and heroism of battles fought in the last great era of adventure.
About the Author
Paul Eaglestone is one of the owners of Empress Miniatures, which produces some highly-respected ranges of figures, covering the Spanish Civil War, the Zulu Wars, the Italian campaigns in Abyssinia, and modern Afghanistan.
Praise For A World Aflame: Interwar Wargame Rules 1918-39…
"Eaglestone"s A World Aflame: Interwar Wargame Rules 1918-39 offers the gamer a chance to use a single, cohesive set of rules for those series of conflicts set between World War I and World War II. Players can wargame the bloody Irish War of Independence, the many civil wars in China, the Spanish Civil War (no special rules for Ernest Hemingway!), and other confrontations of note."
--Scott L. Mingus, CHARGE! Civil War Wargaming

"Players interested in wargames for this period will find this a fine mix of rules and strategy."
- The Midwest Book Review (November 2012)
Advertisement