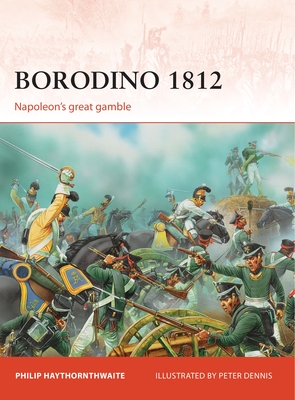 Borodino 1812: Napoleon's Great Gamble (Paperback)
Napoleon's Great Gamble
Osprey Publishing (UK), 9781849086967, 96pp.
Publication Date: September 18, 2012
* Individual store prices may vary.
or
Not Currently Available for Direct Purchase
Description
The battle of Borodino was one of the greatest encounters in European history, and one of the largest and most sanguinary in the Napoleonic Wars. Following the breakdown of relations between Russia and France, Napoleon assembled a vast Grande ArmEe drawn from the many states within the French sphere of influence. They crossed the river Neimen and entered Russian territory in June 1812 with the aim of inflicting a sharp defeat on the Tsar's forces and bringing the Russians back into line. In a bloody battle of head-on attacks and desperate counter-attacks in the village of Borodino on 7 September 1812, both sides lost about a third of their men, with the Russians forced to withdraw and abandon Moscow to the French. However, the Grande ArmEe was harassed by Russian troops all the way back and was destroyed by the retreat. The greatest army Napoleon had ever commanded was reduced to a shadow of frozen, starving fugitives. This title will cover the events of Napoleon's disastrous Russian campaign of 1812 in its entirety, with the set-piece battle of Borodino proving the focal point of the book.
About the Author
Philip Haythornthwaite is an internationally respected author and historical consultant specializing in the military history, uniforms and equipment of the 18th and 19th centuries. His main area of research covers the Napoleonic Wars. He has written some 40 books, including more than 20 Osprey titles, and numerous articles and papers on military history - but still finds time to indulge in his other great passion, cricket.
Praise For Borodino 1812: Napoleon's Great Gamble…
"Tells of the most important battle of Napoleon's invasion of Russia in 1812, and covers the entire campaign from his inital entry into Russia through his retreat. The battle of Borodino is the focal point and is covered in its entirety, including illustrations throughout and packing in fine detail for any student of the times."
- James A. Cox, The Midwest Book Review

"The author provides historical context, profiles the opposing commanders and their armies, and then zeroes in on details of Borodino, including providing a complete order of battle...the highlight is dramatic artwork delivered by Peter Dennis, who brilliantly evokes the desperation of both the bloody battle and the doomed French retreat."
- Toy Soldier & Model Figure
Advertisement