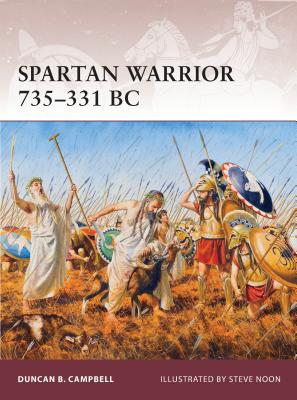 Spartan Warrior 735-331 BC (Paperback)
Osprey Publishing (UK), 9781849087001, 64pp.
Publication Date: July 24, 2012
* Individual store prices may vary.
or
Not Currently Available for Direct Purchase
Description
Immortalized through their exploits at the battle of Thermopylae under the legendary Leonidas, as well as countless other victories throughout the classical period, the Spartans were some of the best trained, organized, most feared and lethal warriors of the ancient world. This small state, known to the Ancient Greeks as Lakedaimon, situated in the southern Argolid developed one of the most successful military forces of the Ancient World. Their unique society, where serfs (helots) and non-citizen labourers (perioikoi) left the pure-bred men of Sparta free to concentrate all their energies on warfare. Forbidden from engaging in any form of manual labour, these Spartan warriors were trained from an early age in a brutal regime that gave them the necessary discipline and endurance to withstand the pressures of phalanx warfare and endure all manner of hardships on campaign.
This title will describe all aspect of the Spartan warriors life, from the earliest days of his training through his life in peace and war culminating in the battlefield experiences of these feared combatants. The Spartans saw widespread combat throughout the Peloponnese and beyond during the Greek and Persian and Peloponnesian wars, becoming the supreme Greek power following their eclipse of Athens until the battles of Leuctra and Mantineia saw their star wane.
About the Author
Duncan B Campbell is a specialist in ancient Greek and Roman warfare. He published his first paper in 1984, as an undergraduate at Glasgow University, and produced a complete re-assessment of Roman siegecraft for his PhD. His work has appeared in several international journals. He is a regular contributor to Ancient Warfare magazine.
Praise For Spartan Warrior 735-331 BC…
"...describes a typical warrior's life and provides a fine history of the early Greek, Persian and Peloponnesian wars. Color photos of relics compliment a fine history suitable for any ancient hisotry library."
- The Midwest Book Review (November 2012)

"This concise book is well worth acquiring by anyone interested in ancient history as well as toy soldier and model figure hobbyists conducting research to re-create the life of a Spartan warrior in war and peace."
- Toy Soldier & Model Figure (January 2013)

"Spartan Warrior is a great reference book for the historian, wargamer, or figure painter. Each of these hobbyists can glean much useful information from these pages."
- Richard Mataka, www.mataka.org
Advertisement