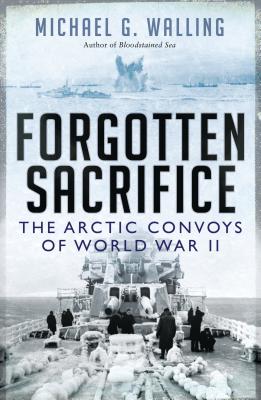 Forgotten Sacrifice
The Arctic Convoys of World War II (General Military)
Hardcover

* Individual store prices may vary.
Other Editions of This Title:
Paperback (1/19/2016)
Description
Hitler called Norway the "Zone of Destiny" for Nazi Germany because convoys from Churchill's Britain and Roosevelt's United States supplied Stalin's Soviet Russia with critical equipment and foodstuffs during the darkest days of the German invasion.
The words "Murmansk Run" conjure visions of ice-laden ships and thoughts of freezing to death in seconds. For five long years, thousands of men and women fought ferociously in the coldest corner of hell on earth. Some fought for survival, some struggled to help others survive, and some sought to crush their enemies. If man-made death didn't get you, the Arctic's weapons of ice and cold would. These natural weapons killed regardless of whose side you were on or how just was your cause. No one escaped unscathed. Author Mike Walling captures the Arctic convoys' bitter essence in Forgotten Sacrifice.
The story launches in October 1939, when Germany and the Soviet Union began diplomatic maneuvering. The action accelerates with Winston Churchill's decision in 1941 to provide supplies to Soviet forces battling the German invasion. From this point until the closing days of WWII in spring 1945, an unremitting sea battle raged within the confines of the always-lethal, ever-shifting Arctic ice pack and the savage Scandinavian coastline. Nearly 4.5 million tons of supplies were moved in 77 convoys over the course of 5 years in order to help the Soviet war effort. The Allies fought to keep the sea lanes open to Murmansk while the Germans were determined to slaughter every ship which dared to make the attempt. By the end of the convoys, 98 ships had been lost. Forgotten Sacrifice reveals a timeless tale of determination, heroism, sacrifice, and the strength of the human spirit.
Praise For Forgotten Sacrifice: The Arctic Convoys of World War II (General Military)…
"This volume fills in a part of history little known to the average student of the Second World War and is important in the wider knowledge of that time." —Richard Mataka, www.mataka.org
"Relying on anecdores from the written accounts of crewmen who served on board the merchantmen and their naval escorts, Walling provides readers with unforgettable snapshots of the horrendous experiences they faced during cobat in ... frigid waters." —Naval History magazine (June 2013)
"If the Nazis didn't get you, the weather would in this truly hellish front: the icy U-boat and Luftwaffe-patrolled lend-lease lifeline to Russia." —Gene Santoro, World War II (November/December 2012)
"...through this book I definitely had gained a renewed sense of appreciation for the thousands upon thousands of civilian seamen who had contributed to the war effort, many of whom passed into history without ever receiving their due recognition." —Peter C. Chen, World War II Database (October 2012)
"...tells the complete story of the Allied forces' Arctic Convoys and the role they played in helping Russia repel the Germans. It uses literally hundreds of oral histories from eyewitnesses and veterans of the convoys plus original research in the Russian Naval archives at Murmansk to retell a campaign that has received relatively little in-depth focus in the chronicles of World War II, and is a top pick for any military history holding." —James A. Cox, The Midwest Book Review (January 2013)
Osprey Publishing, 9781849087186, 292pp.
Publication Date: October 23, 2012
About the Author
Michael G. Walling is author of several books, including Bloodstained Sea, the 2005 Samuel Eliot Morison Award for Naval Literature. An internationally recognized World War II expert, Walling is a contributing author to the U.S. Naval Institute's Naval History Magazine and has appeared on The History Channel and PBS as an aviation and naval expert. After graduating from Montclair State College with a BA in Biology, Walling served in the U.S. Coast Guard for six years as a commissioned officer and a senior petty officer. He has spent more than 45 years collecting stories from veterans from World War II, Korea, Viet Nam, and Iraq as well as those of pilots, merchant seaman, and civilian personnel with NATO and EUFOR in the Balkans. His research has included visits to London; Sarajevo; Baska Voda, Croatia; Halifax, Nova Scotia; St. John's, Newfoundland; and New Orleans.
or
Not Currently Available for Direct Purchase