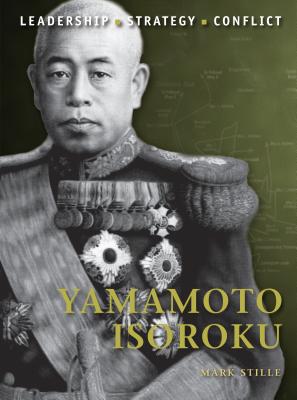 Yamamoto Isoroku (Paperback)
Osprey Publishing (UK), 9781849087315, 64pp.
Publication Date: June 19, 2012
* Individual store prices may vary.
or
Not Currently Available for Direct Purchase
Description
Yamamoto Isoroku is the most well-known of Japan's military leaders and his name will be forever linked to the attack on Pearl Harbor. Because the attack was such an apparent success, he has gone down as one of the most brilliant naval figures in history.
The truth is rather different as explained in this new book on Yamamoto which examines the reality and myth of one of the most important command figures of the Second World War. The easiest myth to explode is the success of Yamamoto's Pearl Harbor attack which he personally advocated for and went to great extremes to execute. In spite of his insight regarding the outcome of a war between the United States and Japan, Yamamoto's attack was not only a political disaster since it removed any possibility of a negotiated peace, but it had little military impact, and was in fact, unnecessary to guarantee Japan's early war conquests.
Yamamoto's record later in the war is no better, as is examined extensively. As he had at Pearl Harbor, Yamamoto bullied the Naval General Staff into a series of badly conceived operations which lead the Imperial Navy to disaster. At the battle of Coral Sea, the Japanese squandered their numerical advantage and jeopardized Yamamoto's cherished Midway operation. Midway was Yamamoto's battle from its inception and planning through to its execution. His faulty planning and poor execution resulted in a seminal defeat which stopped Japanese expansion in the Pacific.
Even after Midway, Yamamoto's reputation remained high. In the next campaign, the struggle for Guadalcanal, he failed to recognize that this was the decisive battle with the U.S. Navy that he had been seeking. His control of the battle was timid and weak, and thus the Japanese were never able to focus their still superior forces to achieve final victory.
This new look at Yamamoto carefully examines the myth of Yamamoto and his impact on the War in the Pacific.
About the Author
Mark E. Stille (Commander, United States Navy, retired) received his BA in History from the University of Maryland and also holds an MA from the Naval War College. He has worked in the intelligence community for 30 years including tours on the faculty of the Naval War College, on the Joint Staff and on US Navy ships. He is currently a senior analyst working in the Washington DC area. He is the author of numerous Osprey titles, focusing on naval history in the Pacific. He is also the author of several wargames.
Praise For Yamamoto Isoroku…
"In Yamamoto Isoroku (Japanese nomenclature places family name first) author Mark Stille delves into key early-WWII Japanese campaigns orchestrated by arguably one of Japan's most famous admirals. And as he traces Yamamoto's life from upbringing to Imperial Combined Fleet Command, Stille offers insight into the mind of the man behind the legend."
--Rachel E. Veres, www.cybermodeler.com
Advertisement