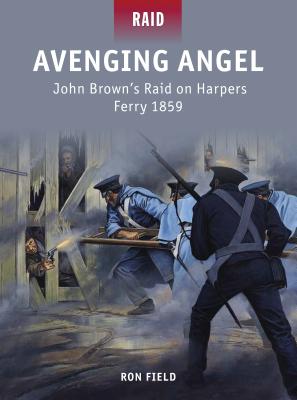 Avenging Angel: John Brown's Raid on Harpers Ferry 1859 (Paperback)
John Brown's Raid on Harpers Ferry 1859
Osprey Publishing (UK), 9781849087575, 80pp.
Publication Date: November 20, 2012
* Individual store prices may vary.
or
Not Currently Available for Direct Purchase
Description
After decades of anti-slavery activity in nineteenth century America, the Abolitionists found a hero who martyred himself, resulting in the American Civil War.
On October 16, 1859 John Brown led a small "army" of 18 men, consisting of 13 whites and five blacks, into Harpers Ferry, Virginia. Three other members of his force formed a rearguard at a nearby Maryland farm. A veteran of the violent struggles between pro- and antislavery forces in Kansas during 1855-56, Brown intended to provoke a general uprising of African Americans that would lead to a rebellion against slavery. The raiders seized the Federal buildings, including an armory and arsenal, and cut the telegraph wires. However, they failed to realize that further weapons had been removed to safety after flooding at the Hall Rifle Factory. Expecting local slaves to join them, Brown and his men fortified themselves in the Fire Engine House while the well-armed townspeople surrounded the building. The raiders and the civilians exchanged gunfire, and eight of Brown's men were killed or captured. By daybreak on October 18, a battalion of US Marines under the command of future Confederate commander Brevet Colonel Robert E. Lee, with First Lieutenant James Ewell Brown "Jeb" Stuart as second in command, stormed Brown's position in a fire engine house and captured or killed most of his force. Five of the conspirators, including Brown's son Owen, escaped to safety in Canada and the North. Severely wounded and taken to the jail in Charlestown, Virginia, John Brown stood trial for treason against the commonwealth of Virginia, for murder, and for conspiring with slaves to rebel. On November 2, 1859, a jury convicted him and sentenced him to death. Brown readily accepted the sentence and declared that he had acted in accordance with God's commandments. Responding to persistent rumours of further rebellion and written threats, Henry A. Wise, governor of Virginia, called out the state militia to guard against a possible rescue of Brown and his followers. Brown was hanged in Charlestown later that day, with John Wilkes Booth and Thomas (later "Stonewall") Jackson among those who witnessed the event.
The Harpers Ferry raid confirmed for many Southerners the existence of a widespread Northern plot against slavery. In fact, Brown had raised funds for his raid from Northern abolitionists. To arm the slaves, he ordered one thousand pikes from a Connecticut manufactory. Letters to Governor Wise betrayed the mixed feelings people held for Brown. For some, he was simply insane and should not be hanged. For others, he was a martyr to the cause of abolition, and his quick trial and execution reflected the fear and arrogance of the Virginia slave-owning aristocracy. Many Northerners condemned Brown's actions but thought him right in his conviction that slavery had to end. The John Brown Raid on Harpers Ferry and his execution further polarized North and South and made a solution of the slavery issue central to the national debate which ultimately led to Civil War in 1861.
About the Author
Ron Field was Head of History at the Cotswold School in Bourton-on-the-Water, until his retirement in 2007. Awarded a Fulbright Scholarship in 1982, he taught History at Piedmont High School in California from 1982 to 1983. Ron was also associate editor of the Confederate Historical Society of Great Britain, from 1983 to 1992. He is an internationally acknowledged expert on US military history, and was elected a Fellow of the Company of Military Historians, based in Washington, DC, in 2005.
Praise For Avenging Angel: John Brown's Raid on Harpers Ferry 1859…
"Many books have been written about the how, why, and meaning of John Brown's failed attempt to provoke a slave uprising in northern Virginia, but Ron Field's Avenging Angel: John Brown's Raid on Harpers Ferry 1859 ... has a very distinct contextual focus on the raid as paramilitary operation, unsurprising given its placement within Osprey's Raid series. The background is there -- Brown's prior abolitionist career, along with brief biographical information about each participant, and what they hoped to accomplish by seizing Harpers Ferry -- but the heart of the book's 80 pages is a detailed, blow-by-blow account of the raid and the armed state (Maryland and Virginia) and federal response."
--Andrew Wagenhoffer, Civil War Books and Authors (January 3,2013)
Advertisement