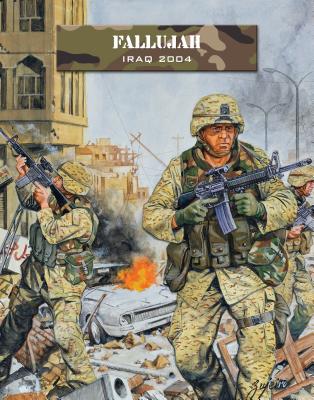 Fallujah: Iraq 2004 (Paperback)
Iraq 2004
Osprey Publishing (UK), 9781849087711, 142pp.
Publication Date: August 21, 2012
* Individual store prices may vary.
or
Not Currently Available for Direct Purchase
Description
Operations Vigilant Resolve and Phantom Fury - the operations to take and hold the city of Fallujah in the face of determined insurgent resistance - were amongst the most dangerous and controversial carried out by the Coalition forces during Operation Iraqi Freedom. These two battles of Fallujah saw some of the heaviest urban combat faced by regular troops in modern times and, even though much of the civilian populace had fled, the enemy was well-armed, well-prepared and driven by a fanatical resolve. With the scenarios and information presented in Fallujah, the latest Force on Force companion, wargamers will find themselves thrown into the narrow, twisting streets of the city, forced to negotiate IEDs, snipers, barricades, and a multinational insurgent force.
About the Author
Ambush Alley Games are the producers of fine historical, horror, and science fiction miniature games. Founded in 2007, this Oklahoma-based company captured the imaginations of modern military gamers with their flagship game, Ambush Alley, and followed up on that success with Ambush Z (a zombie & horror/survival game), various well-received historical expansions, and Force on Force, a rule-set for asymmetrical and kinetic warfare in the post-war to modern period.
Praise For Fallujah: Iraq 2004…
"Fallujah: Iraq 2004 covers the bitter, and often confused fighting in Iraq, a controversial war to be sure in both Britain and the USA ... This game is a supplement to the Force on Force 7 series."
--Scott L. Mingus, CHARGE! Civil War Wargaming

"Wargamers will find the battle lines drawn and alive in a volume packed with scenarios and information perfect for re-enacting their Iraq battle wargames ... a pick that Force on Force players MUST have!"
- The Midwest Book Review (November 2012)
Advertisement