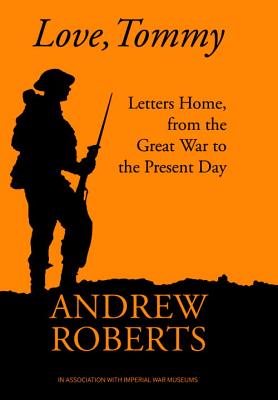 Love, Tommy: Letters Home, from the Great War to the Present Day (Hardcover)
Letters Home, from the Great War to the Present Day
Osprey Publishing (UK), 9781849087919, 255pp.
Publication Date: September 18, 2012
* Individual store prices may vary.
or
Not Currently Available for Direct Purchase
Description
A legacy of an empire and a nation at war, Love Tommy, is a collection of letters housed at the Imperial War Museum sent by British and Commonwealth troops from Canada, Australia, New Zealand and South Africa from the frontline of war to their loved ones at home. Poignant expressions of love, hope and fear sit alongside amusing anecdotes, grumbles about rations and thoughtful reflections, eloquently revealing how despite the passage of time many experiences of the fighting man are shared in countless wars and battles. From the muddy trenches of the Somme to frozen ground of the Falklands to the heat and dust of Helmand today, these letters are the ordinary soldier's testament to life on the frontline.
About the Author
Andrew Roberts is the author of Masters and Commanders: How Four Titans Won the War in the West (which won the International Churchill Society Book Award) and A History of the English-Speaking Peoples since 1900 (which won the Intercollegiate Studies Institute Book Award). His other books include Napoleon and Wellington, Eminent Chuchillians, and Salisbury, which won the Wolfson History Prize. His latest book, The Storm of War: A New History of the Second World War won the British Army Military Book of the Year for 1010. A Fellow of the Royal Society of Literature, he holds a PhD in History from Cambridge University and lives in New York City.
Praise For Love, Tommy: Letters Home, from the Great War to the Present Day…
"Love, Tommy is a collection of letters sent home by British and Commonwealth soldiers from the Great War to the present day, and reveals the most intimate details of the lives of soldiers serving on the front line. The letters are compiled by acclaimed military historian Andrew Roberts, in association with Imperial War Museums."
- The Liverpool Journal (October 26, 2012)

"This book presents a moving (and historically valuable) selection of letters home." - The Daily Mail

"From a top World War II historian comes a delightful collection of correspondence by British soldiers, sailors, and aviators."
- The Quarterly Journal of Military History (Winter 2013)

"...reveals the mindsets of generations of British and Commonwealth servicemen who fought through the two World Wars, the Falklands and in the heat of the Afghan desert...these brief glimpses into the soldiers' hearts and minds at the time of writing exposes the startling similarities between them."
- Discover Britain Magazine

"...provides a collection of original writings gathered by the Imperial War Museum from the last hundred years, revealing the daily lives of soldiers and offering comparisons between the experiences of those fighting different wars. From anecdotes and reflections on experiences to discussions of rations and expressions of love and fear, these capture the hopes, fears and struggles of the universal soldier no matter what the war, and are packed with solid reflections."
- James A. Cox, The Midwest Book Review (January 2013)
Advertisement