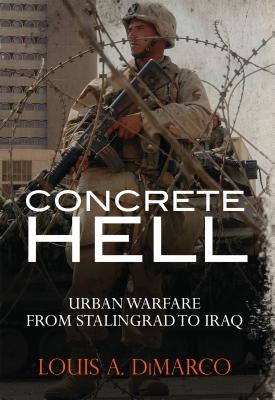 Concrete Hell: Urban Warfare from Stalingrad to Iraq (Hardcover)
Urban Warfare from Stalingrad to Iraq
Osprey Publishing (UK), 9781849087926, 232pp.
Publication Date: November 20, 2012
* Individual store prices may vary.
or
Not Currently Available for Direct Purchase
Description
Throughout history, cities have been at the center of warfare, from sieges to street-fighting, from peace-keeping to coups de mains. Sun Tzu admonished his readers of The Art of War that the lowest realization of warfare was to attack a fortified city - a maxim that the Russian army should have heeded before it launched its operation to seize the Chechnyan city of Grozny. Indeed, although strategists have advised against it across the millennia, armies and generals have been forced nonetheless to attack and defend cities, and victory has required that they do it well. In Concrete Hell Louis DiMarco has provided a masterful study of the brutal realities of urban warfare, of what it means to seize and hold a city literally block by block. Such a study could not be more timely. We live in an increasingly urbanizing world, a military unprepared for urban operations is unprepared for tomorrow. Fighting in cities requires new skills, new weaponry and new tactics. But there is no better way to prepare than to look at the successes and failure of some of the most famous operations in modern military history including Stalingrad, Hue City and Fallujah.
About the Author
Louis DiMarco retired as a Lieutenant Colonel in the United States Army in 2005 after more than 24 years of active service. He was commissioned as an Armor officer in the US Army from the US Military Academy in 1981. His military assignments include command and staff positions in armored cavalry squadrons and division, corps and joint forces headquarters. He was a doctrine writer both at the U.S. Army Armor Center at Fort Knox, and the Combined Arms Center at Fort Leavenworth. His civilian education includes a Bachelor of Science Degree from the United States Military Academy, West Point, NY, a Masters in Military Art and Science from the US Army Command and Staff College, Fort Leavenworth Kansas, and a Masters of Arts Degree in International Relations from Salve Regina University, Rhode Island. He is a Ph.D. candidate at Kansas State University and is writing a dissertation focused on the US Army occupation operations, 1865 to 1940. Currently Col. DiMarco is assigned to the faculty of the Army Command and Staff College, Fort Leavenworth Kansas where he teaches military history and elective courses on the history of modern urban warfare and modern warfare in the Middle East. Col. DiMarco has written and lectured on a variety of military affairs topics including urban warfare and counterinsurgency.
Praise For Concrete Hell: Urban Warfare from Stalingrad to Iraq…
"Concrete Hell is a masterful study of the brutal realities of modern combat, tracing the development of military operations in an urban environment from the Soviet defense of Stalingrad in World War II to the recent operations of the US Army in Iraq. The author has synthesized 24 years experience in the US Army and in doing so has created a blueprint for urban warfare in the future. Such a study could not be more timely."
--Savannah Jones, www.sirreadalot.org (December 2012)

"I can recommend this book to the history buff and to the wargamer who is gaming in urban situations. I found this book extremely enjoyable and hard to put down once I started reading it, and I believe so will you."
- Richard Mataka, www.mataka.org

"...recommended reading for anyone interested in learning about urban combat ... it will be of value to soldiers wanting to quickly learn the hisory and the myriad tactical, operational, strategic and political considerations associated with fighting in cities."
- ARMY magazine (August 2013)
Advertisement