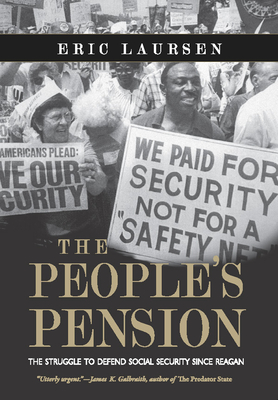 The People's Pension (Paperback)
The Struggle to Defend Social Security Since Reagan
AK Press, 9781849351010, 750pp.
Publication Date: May 29, 2012
* Individual store prices may vary.
Description
"Readers mystified by the yawning gulf between public opinion and current political discussion might benefit from the background provided in Eric Laursen's magisterial history, 'The People's Pension: The Struggle to Defend Social Security Since Reagan' The book offers more than 800 pages of fascinating if gory details about the lobbying efforts and misinformation campaigns aimed at bringing the program down."--Nancy Folbre, NYTimes Economix Blog

"Laursen has given us a comprehensive account of the three decade long war against Social Security. . . . This is a fascinating history that progressives must learn, not only to protect Social Security but also to understand the dynamics behind an effective long-term strategy."--Dean Baker, author of False Profits: Recovering From the Bubble Economy
"This magnificent history documents the hydra-headed campaign to cut and kill Social Security, conducted over decades by rightwing bankers, foundations, economists, and politicians. The People's Pension] is utterly urgent."--James K. Galbraith, author of The Predator State
The People's Pension is both groundbreaking history and an indispensable guide for anyone concerned about one of the biggest issues in the upcoming election. With 95 percent of Americans participating in the program either as beneficiaries or through their payroll tax contributions, Social Security is quite literally the "glue" that binds Americans together as a community. Yet in the aftermath of the debt reduction deal between Barack Obama and congressional Republicans, the 2012 election promises to be a kind of referendum on the size and role of government--including economic support programs like Social Security. Arguing to democratize, not disable, the program, Eric Laursen suggests that the only solution for Social Security is taking it out of the government's hands altogether.
Eric Laursen is an independent financial and political journalist, activist, and commentator. The co-founder and former managing editor of Plan Sponsor, a magazine for pension fund executives, Laursen is also the co-author of Understanding the Crash (2010). His work has appeared in a wide variety of publications, including The Huffington Post, The Nation, Institutional Investor, The Village Voice, and Investment Dealer's Digest.
About the Author
Eric Laursen, born 1960, is an independent financial and political journalist, activist, and commentator. A native of San Francisco and graduate of Columbia University in New York (B.A. in History, Master's in International Affairs), he began his journalistic career as a reporter for Wall Street Letter, a weekly newsletter for the financial services industry. He later worked for a succession of publications: as a staff writer for Corporate Finance Magazine; editor of Asset International, a weekly newsletter for international investment firms; and as co-founder and managing editor of Plan Sponsor, the leading monthly magazine for North American pension executives. It was there he became interested in the debate over Social Security. An independent journalist since 2000, Eric has written for publications ranging from Z Magazine and The Nation to Institutional Investor and CFO. His specializations are national politics, retirement and aging, global trade, U.S. fiscal policy, social services, business and financial services, civil liberties, and alternative economics. He has also written on anarchist theory, practice, and history for a variety of publications.
Praise For The People's Pension: The Struggle to Defend Social Security Since Reagan…
"If you want to put the current struggle over Social Security's future in context, read this book."Mark Miller, RetirementRevised.com

"Independent financial reporter Laursen offers a breathtakingly comprehensive look at the history and politics behind the largest income support program in the U.S.,' ... Comprehensive and compelling reading on an important topic."Booklist, starred review

"Eric Laursen has written a comprehensive and exhaustive history of the Social Security program in the United States. The People's Pension is an honest, detailed and even eye-opening discussion of the program's origins and continuing efforts to provide elderly and disabled Americans with a livable income. Equally important, it is a discussion of the attempts to alter and ultimately destroy the program by forces whose only interest seems to be profit and the elimination of any government institution that guarantees every citizen worker an income in their old age." — Ron Jacobs, CounterPunch