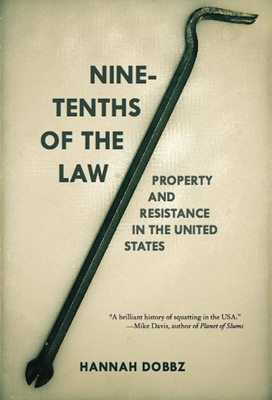 Nine-Tenths of the Law (Paperback)
Property and Resistance in the United States
AK Press, 9781849351188, 300pp.
Publication Date: November 27, 2012
* Individual store prices may vary.
Description
"Millions of foreclosed homes and abandoned buildings on one hand; millions of Americans desperate for decent shelter on the other. Hannah Dobbz makes the necessary addition of resources and needs in a book that is both a brilliant history of squatting in the USA and a template for the next stage of the Occupy movement.--Mike Davis, author of Planet of Slums and Buda's Wagon
How does "property" fit into designs for an equitable society? Nine-tenths of the Law examines the history of squatting and property struggles in the United States, from colonialism to twentieth century urban squatting and the foreclosure crisis of the late 2000s, and how such resistance movements shape the law. Stories from our most hard-hit American cities show that property is truly in crisis:
One in five homes in Buffalo, NY, are abandoned.
Our national housing vacancy rate is 14 percent. If we gave a house to every homeless person in the United States two-thirds of that stock would remain empty.In May of 2011, one in every 103 homes in Nevada was in foreclosure.
Nine-tenths of the Law expands our understanding of property law and highlights recent tactics like creative squatting ventures and the use of adverse possession to claim title to vacant homes. Hannah Dobbz unveils the tangled relationship Americans have always had in creating and sustaining healthy communities.
Hannah Dobbz is a writer, editor, filmmaker, and former squatter. In 2007 she produced a film about squatters in the Bay Area called Shelter. The film has screened widely at universities, bookstores, and community spaces, including the 2009 Three Rivers Film Festival in Pittsburgh, Pennsylvania.
About the Author
Hannah Dobbz is a writer, editor, filmmaker, and former squatter. Between 2004 and 2007, she filmed a documentary about squatters in the San Francisco East Bay called Shelter: A Squatumentary. She has toured extensively with the film, lecturing at conferences, universities, and community spaces across the country. She has written numerous articles about squatting and property law, and has mastered brushing her teeth without running water. Currently, Hannah lives in Pittsburgh, where she has grown quite fond of power tools.
Praise For Nine-Tenths of the Law: Property and Resistance in the United States…
"From the Native American Seizure of Alcatraz Island, to New York Squatters and Homesteaders of the 1980s, to the housing actions led by Occupy Wall Street today [Dobbz] asks important philosophical questions about these tendencies. [Her] book is a welcome addition."--Seth Tobocman, co-author, Understanding the Crash
or
Not Currently Available for Direct Purchase