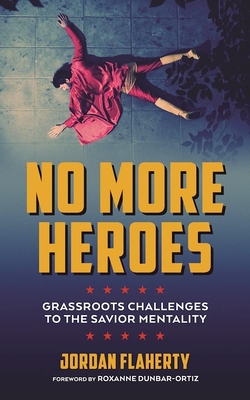 No More Heroes
Grassroots Challenges to the Savior Mentality
Paperback

* Individual store prices may vary.
Description
How can we build a better world? And why do so many people with privilege end up making things worse when they try to help? It's called the savior mentality, and Jordan Flaherty finds it in FBI informants, anti-sex-work crusaders, Teach For America corps members, and out-of-touch journalists. No More Heroes celebrates grassroots challenges to these saviors and highlights movements focused on real, systemic change from the Arab Spring to Black Lives Matter. Praise for No More Heroes "In this marvelous, enormously instructive book, Jordan Flaherty explores how we too often allow the struggle for change to be undermined by would-be saviors--and how today's grassroots social movements, led by communities on the frontlines of crisis, are charting a far more powerful path forward." --Naomi Klein, author of This Changes Everything "Part memoir, part history, part political critique, No More Heroes exposes the savior complex for what it really is: imperialism camouflaged as a rescue operation. A perfect gift for the age of Trump." --Robin D. G. Kelley, author of Freedom Dreams "In No More Heroes, Jordan Flaherty upends the world. You might think you understand the issues of sex workers, disaster victims, and the poor, but through this series of personal stories from the front lines of these fights, No More Heroes demonstrates that our best intended assumptions are often wrong. Read this book before your misguided good intentions do more harm to your pet causes than good." --Lolis Eric Elie, Writer, HBO's Treme "From left -wing vanguards, Teach-For-America, and charitable foundations, to the power of military interventions, Jordan Flaherty shows how rhetorics of commercial culture and corporate media re-appear as 'moral' arguments to justify domination. This is an original interrogation of destructive control masquerading as 'help.'" --Sarah Schulman, author of Conflict Is Not Abuse "Jordan Flaherty is one of America's most committed journalists writing from below and to the left. His work lifts up voices rarely heard in media as he focuses on the tireless, courageous work of marginalized communities building collective power. At a time when many movements are increasingly aligned with the dangerous neoliberal notion of individual saviors, Jordan reminds us there are no masters in the path to love and liberation." --Harsha Walia, author of Undoing Border Imperialism "Compelling and accessible, this book may be challenging for folks with privilege--especially cisgendered straight white men--to read as it demands they ask searing questions that may indict them and their behavior, but Flaherty shows clearly that is exactly what privileged people have to do, because oppressed people stare these realities in the face every day--and when we blink, we die." --Walidah Imarisha, author of Angels with Dirty Faces "Jordan Flaherty...has learned through personal experience and from listening to those who are marginalized just how dangerous it can be for would-be superheroes (even those with the best intentions) to take up the cause of justice, absent a real grounding in the solidarity and accountability necessary to bring true liberation. This is a unique and compelling contribution to movement literature, written with a humility that is as powerful as it is genuine." --Tim Wise, author of White Like Me "No More Heroes gives us all another opportunity to do what it will actually take to create liberation in our lifetimes: trust them most impacted, come together across forms of oppression, and most importantly throw away the scarcity-based, fragile individuality that privilege teaches us to defend. Let it go, and embrace the humbling, collective work of getting free." --Alexis Pauline Gumbs, author of Spill

AK Press, 9781849352666, 175pp.
Publication Date: November 8, 2016
About the Author
Jordan Flaherty: Jordan Flaherty is an award-winning journalist, producer, and author. He has appeared as a guest on a wide range of television and radio shows including Anderson Cooper 360, CNN Headline News, and News and Notes on NPR. His most recent book is Floodlines: Community and Resistance From Katrina to the Jena Six. Most recently, Flaherty has produced content for Al Jazeera America and is executive producer of The Laura Flanders Show.