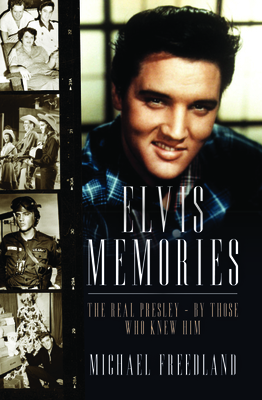 Elvis Memories
The Real Presley - By Those Who Knew Him
Hardcover

* Individual store prices may vary.
Description
This is not just another Elvis Presley biography, although it gets closer to the real Elvis story than many of the hundreds that have dealt with the life of the man his contemporaries have called The King. As the author Michael Freedland puts it in his introduction, Everyone knows Elvis. But not the way his close friends, employees, and others who entered his life knew him. For this is their story.
Freedland interviews those who knew Elvis intimately, from the now elderly woman who was at school with him and whose parents foreclosed on the shack they rented, to Elvis's mother when his father was in jail, to the maid who prepared his peanut butter sandwiches and hamburgers and watched him line up the girls he wanted to take to his bed. In between, we meet the black man who remembered sneaking into a local cinema with Elvis in defiance of Deep South race laws and members of the so-called Memphis Mafia, who went where he went, laughed when he laughed, and suffered when he suffered--and usually received a brand new Cadillac for their troubles. There's also his doctor who denies giving him fatal doses of the drugs he collected along with the hamburgers.
Writer and broadcaster Michael Freedland went all over the West Coast and South to talk to these people who shared Elvis's life, telling the complex Presley story in a way more true to the real man than the usual collection of dates, film, and song titles.
Robson Press, 9781849543583, 307pp.
Publication Date: June 17, 2014
About the Author
Michael Freedland: Michael Freedland is a writer, journalist and broadcaster. He is best known for his biographies of leading entertainment and music figures - ranging from Frank Sinatra and Al Jolson to Irving Berlin and Leonard Bernstein. He is a regular writer for The Times and The Guardian in Britain.
or
Not Currently Available for Direct Purchase