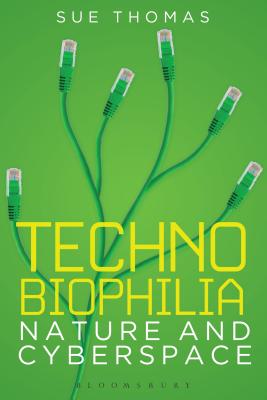 Technobiophilia (Paperback)
Nature and Cyberspace
Bloomsbury Academic, 9781849660396, 272pp.
Publication Date: November 21, 2013
Other Editions of This Title:
Hardcover (11/21/2013)
* Individual store prices may vary.
Description
Why are there so many nature metaphors - clouds, rivers, streams, viruses, and bugs - in the language of the internet? Why do we adorn our screens with exotic images of forests, waterfalls, animals and beaches? In Technobiophilia: Nature and Cyberspace, Sue Thomas interrogates the prevalence online of nature-derived metaphors and imagery and comes to a surprising conclusion. The root of this trend, she believes, lies in biophilia, defined by biologist E.O. Wilson as 'the innate attraction to life and lifelike processes'. In this wide-ranging transdisciplinary study she explores the strong thread of biophilia which runs through our online lives, a phenomenon she calls 'technobiophilia', or, the 'innate attraction to life and lifelike processes as they appear in technology'. The restorative qualities of biophilia can alleviate mental fatigue and enhance our capacity for directed attention, soothing our connected minds and easing our relationship with computers.
Technobiophilia: Nature and Cyberspace offers new insights on what is commonly known as 'work-life balance'. It explores ways to make our peace with technology-induced anxiety and achieve a 'tech-nature balance' through practical experiments designed to enhance our digital lives indoors, outdoors, and online.
The book draws on a long history of literature on nature and technology and breaks new ground as the first to link the two. Its accessible style will attract the general reader, whilst the clear definition of key terms and concepts throughout should appeal to undergraduates and postgraduates of new media and communication studies, internet studies, environmental psychology, and human-computer interaction. www.technobiophilia.com
About the Author
Sue Thomas is an independent researcher and digital pioneer. In 1995 she founded the trAce Online Writing Centre, an early global online community which ran for ten years. From 2005-2013 she was Professor of New Media in the Institute of Creative Technologies at De Montfort University, UK, where she researched social media, transliteracy, transdisciplinarity and future foresight. She's currently a Visiting Fellow in The Media School at Bournemouth University, UK. Her previous books include Correspondence (1992), short-listed for the Arthur C. Clarke Award for Best Science Fiction Novel, and Hello World: travels in virtuality (2004), a travelogue/ memoir of life online. She lives in Bournemouth, Dorset, UK.
Praise For Technobiophilia: Nature and Cyberspace…
"The book is about a powerful subliminal urge by our entire species to hang onto our connection to the natural world, as we are pulled deeper into the digital age...It is good to find someone like Thomas who loves nature but is not an anti-technologist. Her book is the beginning of a line of thinking that needs to be expanded by those who are deeply concerned about the effects of our addiction to technology. The book reinforces the idea that if human problems are exacerbated by technology, as they certainly are, doesn't it make sense to use technology to ameliorate human problems...Thomas book is filled with well-documented, transdisciplinary, theoretical arguments for the many researchers who should begin working in this field;, but it is a good read for general audiences...I kept reading because I want to see where the personal story leads. What happens to her suggest some things that we ought to make happen for ourselves far more often than we do." - Gregory Davis, Psychology Today "[Susan Thomas] discusses the biophilic needs of a huge number of users, arguing that restorative qualities of nature affect brain functioning capacities. And after an articulate discourse involving quite different cultural fields, it's clear that integrating these two planets (as she defines them: the one "beneath our feet" and the one "inside our machines"), should be the most natural way to balance our digital life, rather than drastic 'digital detox' cures, or addictive indulgence in self-gratifying screen-based loops." – Alessandro Ludovico, Neural
or
Not Currently Available for Direct Purchase