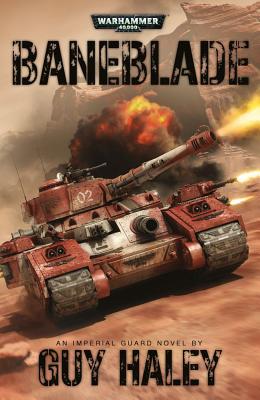 Baneblade (Paperback)
Games Workshop, 9781849703154, 416pp.
Publication Date: May 7, 2013
Other Editions of This Title:
Paperback (10/17/2017)
* Individual store prices may vary.
Description
Warhammer 40K Imperial Guard novel

By the blessing of the Omnissiah was the Mars Triumphant born – from the forges of the Adeptus Mechanicus, the mighty Baneblade super-heavy battle tank comes to bring death and destruction to the foes of the Imperium. As part of the Paragonian 7th Company, Honoured Lieutenant Marken Cortein Lo Bannick commands the venerable war machine in a bitter war against the orks in the Kalidar system. As the campaign grinds on it begins to take its toll upon his crew, and old clan prejudices from the regiment's home world arise once more. In a war which cannot be won by force of arms alone, such division may prove to be their undoing.
About the Author
Guy Haley began his career on SFX Magazine in 1997 before leaving to edit Games Workshop's White Dwarf, then SF magazine Death Ray. Since 2009 he has been a wandering writer, working in both magazines and novels. He lives in Somerset with his wife and son, a malamute and an enormous, evil-tempered Norwegian forest cat called, ironically, Buddy. Graham McNeill has written more than twenty novels for Black Library. His Horus Heresy novel, A Thousand Sons, was a New York Times bestseller and his Time of Legends novel, Empire, won the 2010 David Gemmell Legend Award. Originally hailing from Scotland, Graham now lives and works in Nottingham.
or
Not Currently Available for Direct Purchase