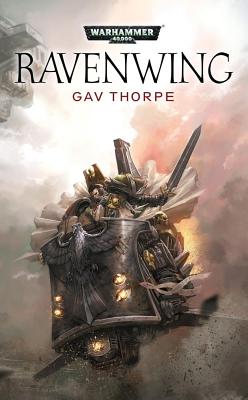 Ravenwing (Paperback)
Games Workshop, 9781849703314, 416pp.
Publication Date: January 1, 2013
* Individual store prices may vary.
Description
Upon steeds of adamantium and steel, the Ravenwing of the Dark Angels bring death to the foes of the Imperium in the first book in a new trilogy from acclaimed author Gav Thorpe.

The Ravenwing stand apart from the rest of the Dark Angels Chapter – these dynamic Space Marines take to the battlefield upon steeds of adamantium and steel, and swoop from the skies in lightning-fast speeders to bring death to the foes of the Imperium. Led by the heroic Master Sammael, they prosecute war where their battle-brothers cannot, and are ever at the forefront of the Dark Angels' campaigns.
About the Author
Gav Thorpe has been rampaging across the worlds of Warhammer and Warhammer 40,000 for many years as both an author and games developer. He hails from the den of scurvy outlaws called Nottingham and makes regular sorties to unleash bloodshed and mayhem. He shares his hideout with Dennis, a mechanical hamster sworn to enslave mankind. At the moment Dennis is under house arrest for attempting to use Skype to hack the worlds nucleur arsenals. Gav's previous Black Library novels include fan-favourite Angels of Darkness and the epic Sundering trilogy, amongst many others.