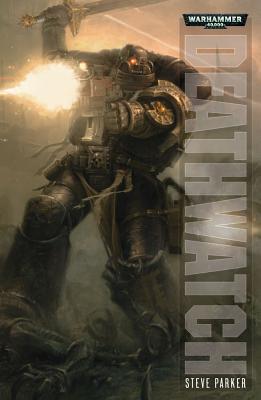 Deathwatch (Paperback)
Games Workshop, 9781849704472, 416pp.
Publication Date: May 7, 2013
* Individual store prices may vary.
Description
Hard-core military Sci-Fi featuring the elite Deathwatch Space Marines

Gathered from the many Chapters of the Space Marines, the Deathwatch are elite, charged with defending the Imperium of Man from aliens. Six Space Marines, strangers from different worlds, make up Talon Squad. On a distant world, a new terror has emerged, a murderous shadow that stalks the dark, and only the Deathwatch can stop it. Under the direction of a mysterious Inquisitor Lord, they must cleanse this planet or die in the attempt.
About the Author
Steve Parker was born and raised in Edinburgh. Scotland, and now lives and works in Tokyo, Japan. As a video-game writer/designer, he has worked on titles for various platforms. In 2005, his short fiction started appearing in American SF/Fantasy/Horror Magazines. In 2006, his story 'The Falls of Marakross' was published in Black Library's Tales from the Dark Millennium anthology. His first novel, Rebel Winter, was published in 2007 and his last book, Rynn's World, was the first book in the Space Marine Battles series.
or
Not Currently Available for Direct Purchase