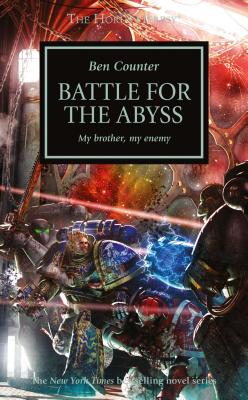 Battle for the Abyss (The Horus Heresy #8) (Mass Market)
Games Workshop, 9781849708166, 416pp.
Publication Date: August 26, 2014
Other Editions of This Title:
Mass Market (8/28/2014)
Mass Market (7/29/2008)
* Individual store prices may vary.
Description
Book eight in the New York Times bestselling series

Now that the news of Horus's Treachery is in the open, a time of testing has come. Some Legions have already declared allegiance to the Warmaster, while the loyalty of the others lies firmly with the Emperor. As Horus deploys his forces, loyalist Astartes learn that the Wordbearers are sending a fleet to Ultramar, home of the Ultramarines. Unless they can intercept and destroy it, the Ultramarines may suffer a blow from which they will never recover. Battle for the Abyss continues the epic tale of the Horus Heresy, a galactic civil war that threatened to bring about the extinction of humanity.
About the Author
Ben Counter is one of Black Library's most popular Warhammer 40,000 authors, with two Horus Heresy novels to his name – Galaxy in Flames and Battle for the Abyss. He is the author of the six-volume Soul Drinkers series and The Grey Knights Omnibus. For Space Marine Battles he has written Malodrax, and has turned his attention to the Space Wolves with the novella Arjac Rockfist: Anvil of Fenris and a number of short stories. He is a fanatical painter of miniatures, a pursuit which has won him his most prized possession: a prestigious Golden Demon award. He lives in Portsmouth, England.