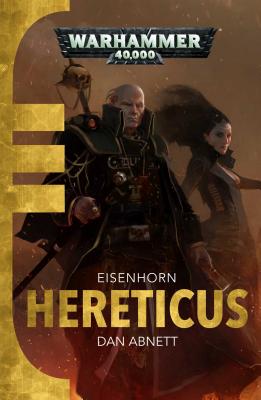 Hereticus (Eisenhorn) (Paperback)
Games Workshop, 9781849709668, 416pp.
Publication Date: September 15, 2015
Other Editions of This Title:
Paperback (8/13/2015)
* Individual store prices may vary.
Description
Part three of the epic Eisenhorn trilogy returns

Hunted by his former allies as a radical and enemy of the Imperium, Inquisitor Gregor Eisenhorn must fight to prove that he remains loyal as he tracks down a dangerous heretic whom the Inquisition believes dead – the dread former Inquisitor Quixos. As he grows more desperate for victory, Eisenhorn uses ever darker means to achieve his goals – but how far can he go using the weapons of the enemy until he becomes that very enemy – and no different to the traitor he hunts?
About the Author
Dan Abnett is the author of the Horus Heresy novels The Unremembered Empire, Know No Fear and Prospero Burns, the last two of which were both New York Times bestsellers. He has written almost fifty novels, including the acclaimed Gaunt's Ghosts series, and the Eisenhorn and Ravenor trilogies. He scripted Macragge's Honour, the first Horus Heresy graphic novel, as well as numerous audio dramas and short stories set in the Warhammer 40,000 and Warhammer universes. He lives and works in Maidstone, Kent.