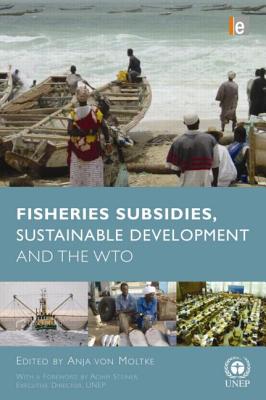 Fisheries Subsidies, Sustainable Development and the Wto [With CDROM] (Hardcover)
Routledge, 9781849711357, 450pp.
Publication Date: November 17, 2010
* Individual store prices may vary.
Description
The fisheries sector is in crisis. Inappropriate subsidies to the fishing industry are a key factor responsible for worldwide fisheries depletion, overcapitalization and ecosystem degradation. There is an urgent need for an international mechanism to promote the appropriate restructuring of fisheries subsidies in order to create a more sustainable industry. In recent years the leading international forum charged with providing such a mechanism has been the World Trade Organization (WTO). This book explains why and how the reform of fisheries subsidies has become one of the most concrete and potentially successful international efforts to achieve global environmental, economic and developmental policy coherence. It describes the history and current status of the discussions at the WTO, drawing on UNEP's key documents and reflecting on the major issues. Accompanying the book is a CD-Rom containing full-text versions of the most important source material used in the publication. The book is aimed at a broad stakeholder audience, including policymakers in the fields of trade, fisheries, environmental economics and international environmental governance, as well as academics and others looking for an overview of the fisheries subsidies issue and an introduction to its technical components. Published with the United Nations Environment Programme (UNEP)
About the Author
Anja von Moltke works for the Economics and Trade Branch of the United Nations Environment Programme in Geneva, Switzerland. She is heading UNEP's programme on environmentally harmful subsidies, working closely with the WTO, government ministries and other stakeholders. She conducts research and policy analysis and provides technical assistance and capacity building through country projects, expert consultations and workshops.
or
Not Currently Available for Direct Purchase