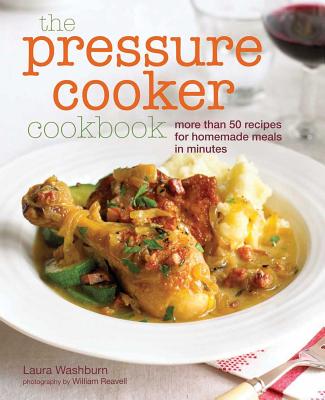 The Pressure Cooker Cookbook
Recipes for homemade meals in minutes
Hardcover

* Individual store prices may vary.
Description
How can you enjoy slow-cooked flavors in a fast-paced world? Pressure cookers are the answer.

They enable the preparation of delicious meals quickly, cheaply, and efficiently because the food is cooked in liquid at temperatures far higher than in a conventional saucepan, effectively shortening cooking time by up to 70 percent. In addition, because the method seals in flavor, cheaper ingredients can be used to great effect and since the cooking time is far shorter you save time and gas or electricity, making it one of the most eco-friendly cooking methods available. The most impressive time and energy savings come with meat and poultry. Braising beef takes just 30 minutes, a chicken casserole can be ready in as little as 15 minutes. Pulses and grains also cook beautifully in a fraction of the time, so it's perfect for vegetarians too. Choose from warming Soups and Stocks, such as Bean & Bacon Soup with Garlic and Fresh Herbs. Meat dishes include hearty Pork Loin Ribs with BBQ Sauce, while lighter Poultry and Seafood dishes to try include a Thai Green Chicken Curry or Turkey Tonnato; a pressure cooker also makes light work of Vegetarian Dishes—use it to make a satisfying Beet & Quinoa Salad or Tomato Risotto, while simple Sides include New Potatoes with Tomato, Bell Pepper, and Olive Sauce and Soft Spiced Polenta. To finish, try a recipe from a selection of delicious Desserts, such as Ricotta Cheesecake with Lemon.
Ryland Peters & Small, 9781849751926, 128pp.
Publication Date: February 9, 2012
About the Author
Laura Washburn was born in Los Angeles, trained at the prestigious Paris cooking school, Ecole de Cuisine La Varenne and now lives in Muswell Hill, London. For Ryland Peters & Small, she has written Home-cooked Comforts and Vegetarian Food for Kids.
or
Not Currently Available for Direct Purchase