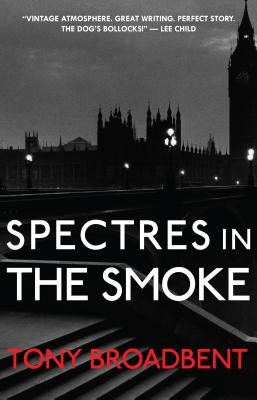 Spectres in the Smoke
Paperback

* Individual store prices may vary.
Description
Jethro, the renowned Cockney cat burglar and jewel thief, has been pushed out onto the slippery rooftops of London again by Colonel Walsingham of MI5. Jethro does 'a creep' in the posh Mayfair house of a certain Baron Belfold that sets in motion a tale of dark and deadly dealings amongst England's aristocracy that mixes sex-orgies and blackmail with politics. In a tale that not only touches upon a Royal cover-up of the Duke of Windsor's alleged dealings with Adolf Hitler during the War, but also on the Government's attempts to root out Fascist sympathisers and Communist moles from the corridors of power in Whitehall.
Meanwhile, Walsingham's secret string pulling has had unintended consequences in London's gangland, and has resulted in Jethro's best friend, Seth, being savagely beaten up by "the Emperor of Soho's" thugs. Seeking retribution, Jethro turns to Jack Spot, another of London's gang bosses, for help and then burgles Walsingham's house to show him that no deed is ever without its consequences. The burglary leads to a confrontation that results in Jethro again taking action in "Defence of the Realm." This time, it's a break-in at the headquarters of the shadowy New Order of Britain Party, a powerful neo-Fascist society with serious political aims. And what Jethro uncovers confirms Walsingham's worst suspicions, that there is indeed a plot by a secret group of high-ranking aristocrats to bring down Clement Attlee's Labour Government. Fearing that even MI5 has been penetrated by spies, Walsingham again turns to Jethro for help in tracking down the sinister group's 'Keys to the Kingdom', a collection of Red Books that reveal "who's secretly who and what's secretly what."
The only difficulty being, Jethro has to pass for 'a gentleman' amongst the English upper classes. For help Walsingham turns to his old chums, David Niven and Ian Fleming. Then, suitably polished up, Jethro sallies forth with Walsingham's trusted assistant Simon Bosanquet to tackle "the enemy within." The trouble is, there's a mysterious American OSS agent roaming around London that looks set to bugger everything up. And all of this the precursor to a very serious bit of burglary at a certain country house; the success or failure of which, could mean England saved from going to the dogs or spell curtains for Jethro. And if that wasn't enough, if Jethro manages to survive it all, Jack Spot is looking for Jethro to pay off the big favour he owes him by helping to pull off the-never-before -attempted 'Great Airport Robbery'. (And no excuses this time. Jethro's in the gang proper or he's out of the game, permanently.) As Jethro would say, It never rains, but it pours."
MP Publishing Ltd, 9781849821537, 326pp.
Publication Date: September 11, 2012
About the Author
Tony Broadbent was born in Windsor, England. He was an art student in London in the late Sixties (from Revolver to Let It Be). He then worked as copywriter and creative director at some of the best advertising agencies in London, New York, and San Francisco, before opening his own agency. He's now a consulting brand strategist, planner, and ideator for clients in the U.S. and Europe. Tony is married and lives in Mill Valley, California.
or
Not Currently Available for Direct Purchase