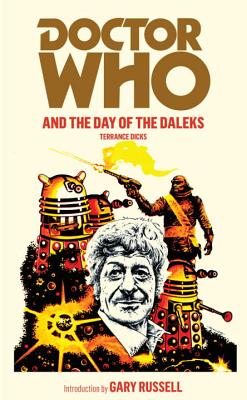 Doctor Who and the Day of the Daleks (Paperback)
BBC Books, 9781849904735, 171pp.
Publication Date: August 7, 2012
* Individual store prices may vary.
or
Not Currently Available for Direct Purchase
Description
Trapped in the future, The Third Doctor battles the Daleks on Earth, in a new edition of a Doctor Who classic.
About the Author
Terrance Dicks worked on scripts for The Avengers as well as other series before becoming Assistant, and later full Script Editor of Doctor Who from 1968. Dicks worked on the entirety of the Jon Pertwee Third Doctor era of the programme, and returned as a writer - scripting Tom Baker's first story as the Fourth Doctor: 'Robot'. His later script writing credits on Doctor Who included the 20th anniversary story 'The Five Doctors'. Terrance Dicks novelised many of the original Doctor Who stories for Target books, and has written original Doctor Who novels for BBC Books. Louis Marks, original script writer of 'Day of the Daleks', worked as a television script writer and editor all through the 1960s - writing the 1964 Doctor Who adventure 'Planet of Giants' for the very first TARDIS crew - before joining the BBC as a Script Editor in 1970. It was while at the BBC that Louis Marks wrote the original scripts for 'Day of the Daleks', later adapting them to add the Daleks as the villains. Marks wrote two further stories for the series - both featuring the Fourth Doctor: 'Planet of Evil' and 'The Masque of Mandragora'. He went on to become a highly-respected television producer working for the BBC. Louis Marks died in September 2010.
Advertisement