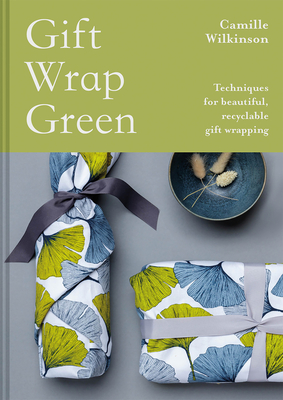 Gift Wrap Green
Techniques for Beautiful, Recyclable Gift Wrapping
Hardcover

* Individual store prices may vary.
Description
Learn the tricks of beautiful gift wrapping, from making simple bows and neat corners to mastering elaborate Japanese fabric techniques . . . all with material that is recyclable, reusable, and sustainable. There are a million ways to wrap a present, and this handy green guide presents you with options that are gorgeous and sustainable, all with easy-to-follow step-by-step illustrations of key techniques. Find out innovative ways for wrapping unusual-shaped gifts, including bottles, and for pleated wrapping, paper bag wrapping, and gift wrap with pockets. Or try your hand at Furoshiki, or fabric wrapping, using tea towels, handkerchiefs, and t-shirts. To finish your gift off perfectly, there are also stunning suggestions for toppings, trimmings, and embellishments: making the perfect bow, working with string and wool, using plants and flowers, and incorporating everyday objects. From the most adorable "Spike the Hedgehog" wrap for a child's gift to "hon tsutsumi," a wrap for carrying two books, Gift Wrap Green is positively bursting with eco-friendly ideas that will delight friends and family and help save the planet by reducing waste.

Batsford, 9781849946117, 160pp.
Publication Date: September 1, 2020
About the Author
Camille Wilkinson has been wowing friends and family with her extravagant gift wrapping for decades. But the concern over the environment has channeled that creativity to find new, stunning ways to craft in a sustainable way. And it's become a mission to show the amazing potential of gift-wrapping green. Camille is also the author of the Alphabet Stencil Book. She lives in Yorkshire with a husband and cluttered crafting table.