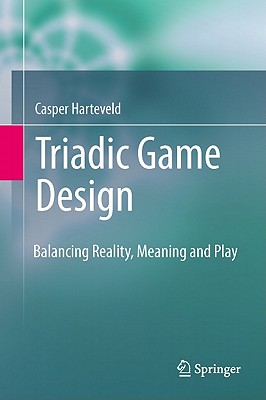 Triadic Game Design (Hardcover)
Balancing Reality, Meaning and Play
Springer, 9781849961561, 316pp.
Publication Date: March 1, 2011
Other Editions of This Title:
Paperback (11/28/2014)
* Individual store prices may vary.
Description
Many designers, policy makers, teachers, and other practitioners are beginning to understand the usefulness of using digital games beyond entertainment. Games have been developed for teaching, recruiting and to collect data to improve search engines. This book examines the fundamentals of designing any game with a serious purpose and provides a way of thinking on how to design one successfully.
The reader will be introduced to a design philosophy called "Triadic Game Design."; a theory that all games involve three worlds: the worlds of Reality, Meaning, and Play. Each world is affiliated with aspects. A balance needs to be found within and between the three worlds. Such a balance is difficult to achieve, during the design many tensions will arise, forcing designers to make trade-offs. To deal with these tensions and to ensure that the right decisions are made to create a harmonic game, a frame of reference is needed. This is what Triadic Game Design offers.
About the Author
Casper Harteveld's disciplinary background includes: organization science, social and cognitive psychology, and gaming. His scientific expertise covers the design and use of serious games, human-computer interaction and sensemaking. Casper Harteveld's areas of application include the application of games in soil engineering, and virtual worlds such as Second Life and Active Worlds.Casper Harteveld holds an MSc in Systems Engineering, Policy Analysis and Management, a BSc in Psychology, and a BSc in Systems Engineering, Policy Analysis and Management. Casper Harteveld's professional experience includes working as a game designer on the game Levee Patroller, independently working on a cross-cultural assessment tool at the Capacity Development department for the United Nations Development Programme (UNDP), and working as a research and teaching assistant at the Delft University of Technology.