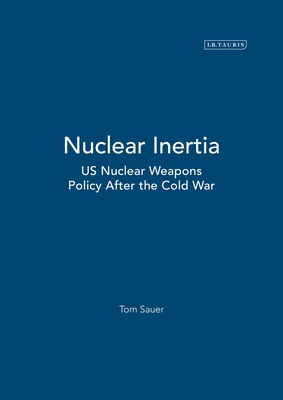 Nuclear Inertia
US Nuclear Weapons Policy After the Cold War (Library of International Relations)
Hardcover

* Individual store prices may vary.
Description
The first book to study post-Cold War U.S. nuclear weapons policy. It is based on extensive original research with dozens of the key players, and sheds important new light US foreign policy. "Nuclear Inertia" examines why, despite the Cold War having ended more than ten years ago, the US still maintains an arsenal of over 10 000 nuclear warheads. Most explanations for this are to be found not in the structure of the international system but in domestic politics. Tom Sauer ascribes the lack of change to bureaucratic resistance, dogmatic thinking and lack of political leadership. Clinton tried to change US policy by initiating the 1993-1994 Nuclear Posture Review but was blocked by bureaucratic opposition. Sauer suggests that this points to a lack of civilian control over the military during the Clinton administration.
Praise For Nuclear Inertia: US Nuclear Weapons Policy After the Cold War (Library of International Relations)…
"The book will be an important contribution to our understanding of the 1990s national security policies of the US and a careful reading of it will help analysts and other readers to better understand what gave rise to Bush Administration policies on nuclear weapons and why, despite common statements to this effect, they are not a major departure."--Patrick M. Morgan, Professor, University of California, Irvine Thomas and Elizabeth Tierney Chair in Peace and Conflict Studies

"Tom Sauer's book makes important contributions to both the scholarly literature and our understanding of policy questions."--Michael Brown, Director of the Centre for Peace and Security Studies, Georgetown University
Bloomsbury Publishing PLC, 9781850437659, 248pp.
Publication Date: July 1, 2005
About the Author
Tom Sauer is an Assistant Professor at the University of Antwerp, a post-doctoral research fellow of the Flemish fund for Scientific Research and a Politics lecturer at the Catholic University of Leuven. He was previously a Research Fellow with the International Security Program at the John F. Kennedy School of Government, Harvard. He is the author of 'Nuclear Arms Control'.