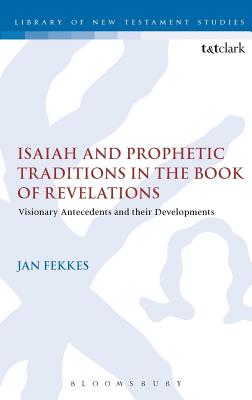 Isaiah and Prophetic Traditions in the Book of Revelation (Journal for the Study of the Old Testament #93) (Hardcover)
Bloomsbury Publishing PLC, 9781850754565, 333pp.
Publication Date: January 1, 1994
* Individual store prices may vary.
Description
This work is concerned with the influence of biblical and prophetic traditions on the author of the book of Revelation, and in particular his use of the prophecies of Isaiah. First, John's own prophetic consciousness and expression is compared with previous Israelite-Jewish and early Christian prophetic conventions. This is followed by an evaluation of John's use of the OT in general, including a discussion of methodology for isolating allusions, the question of the validity of the terms quotation and allusion in Revelation, and the presence of thematic patterns in the author's choice of Scripture. All this is foundational to the main portion of the work (Ch. III), where a detailed analysis is undertaken to determine the validity of all proposed allusions to Isaiah in the book of Revelation. Of the 72 suggested allusions treated, 40 were judged as certain or virtually certain, 24 were considered as unlikely or doubtful, and 8 were appraised as probable or possible. Those allusions which were accepted received further evaluation to see how and why they were used by John, with special attention given to the tradition-history of the passage used, and the possible interpretative techniques employed. A variety of exegetical and literary devices were uncovered, including the use of catchwords, inclusio, repetition of texts, exploitation of Hebrew parallelism, and the collection of texts around a central theme. Furthermore, John's use of Isaiah is concentrated in basic areas, with clusters of Isaiah texts appearing in specific sections of Revelation. The principal Isaian themes with which he is interested are holy war and the Day of the Lord, oracles against the nations, and salvation prophecies relating to the community of faith and the restored and glorified Jerusalem. It was concluded that on the whole, John's use of Isaiah is not random, and he does not use the OT texts merely as a visionary resource for language, phrases, structural patterns etc. But he consciously carries on the prophecies of his biblical predecessors and invokes their authority. The remnants and results of John's interpretation of Isaiah presuppose exegetical activity and application prior to the vision experience and it is likely that at least some of his intended readers were familiar not only with his theological concerns, but also with his methodological approach.