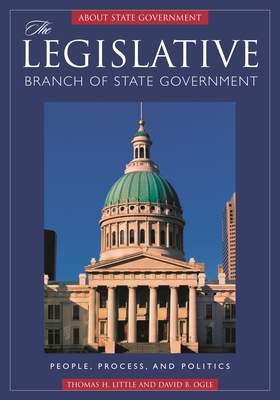 The Legislative Branch of State Government
People, Process, and Politics (ABC-Clio's about State Government)
Hardcover

* Individual store prices may vary.
Description
The Legislative Branch of State Government: People, Process, and Politics is one of three titles in ABC-CLIO's About State Government set, offering comprehensive coverage of contemporary American politics at the state level. Each of the three volumes focuses on a specific governmental branch, providing both general information and comparative details on how that branch operates in each state.
Ranging from colonial times to the present, this volume takes a broad look at how the nation's state legislative institutions have evolved and operate. Combined with the other two volumes in the set, a clear overview of state government emerges. The Legislative Branch of State Government covers the historical, constitutional, and political environment in which state legislatures exist, then focuses on their functions and processes, the people who serve in them, and their interaction with other key political institutions. A concluding chapter looks at characteristics that make each of the 50 state legislative bodies fascinating and unique.
ABC-CLIO, 9781851097616, 491pp.
Publication Date: April 1, 2006
About the Author
Thomas H. Little, PhD, is director of curriculum development and research for the State Legislative Leaders Foundation, Centerville, MA.David B. Ogle is an independent consultant on legislative process and organization and democracy development. He is the author of two books on American state legislatures, has written numerous monographs, articles, and reports on legislative organization, management, and process and civic education.