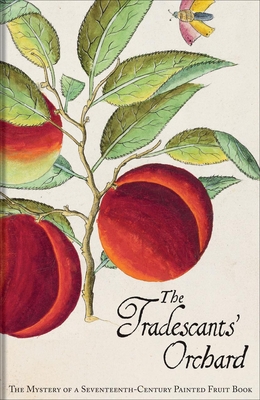 The Tradescants' Orchard (Hardcover)
The Mystery of a Seventeenth-Century Painted Fruit Book
Bodleian Library, University of Oxford, 9781851242771, 120pp.
Publication Date: June 1, 2013
* Individual store prices may vary.
Description
In the early seventeenth century, England's leisured classes took an eager interest in fruits from the Mediterranean and beyond, introducing species from abroad into the kitchen gardens and orchards of grand homes. A charming collection of sixty-six early watercolors showing fecund trees with fruits hanging heavily from their branches, The Tradescants' Orchard is a testament to these broadening horticultural horizons.

The Tradescants' Orchard reproduces for the first time the entire manuscript, traditionally associated with the renowned father-and-son nurserymen the John Tradescants. The paintings pose many questions: Who painted them and why? What is the significance of the wildlife—birds, butterflies, frogs, and snails—that appear throughout? Why is there only one depiction of an apple tree despite its popularity? Were there others that have since gone missing?

A visual feast that will appeal to botany and gardening enthusiasts, the book also includes an introduction that maps out the mystery of how and why these enigmatic watercolors were made.

About the Author
Barrie Juniper is reader emeritus in plant sciences at the University of Oxford; emeritus fellow of St Catherine's College, University of Oxford; and the author of The Story of the Apple.

Praise For The Tradescants' Orchard: The Mystery of a Seventeenth-Century Painted Fruit Book…
"A fascinating look at plantsman John Tradescant the elder, his son John Tradescant, and their contributions to horticulture and the development of fruit orchards in seventeenth-century Europe. . . . Much is explained in the text leading up to Barrie Juniper and Hanneke Grootenboer's reproduction of The Tradescants' Orchard and their book is yet another wonderful chapter in the history of botanical art."

— Art Plantae
"The Tradescants arguably did more to change the botanical and gastronomic landscape in England than anyone else in the seventeenth century."

— Gastronomica, on the John Tradescants
"Hundreds of years after a British book collector passed away, his volume of luscious watercolors of orchard fruits has taken on new life. . . . Plant scientist Barrie Juniper and art historian Hanneke Grootenboer suggest that a new generation of detectives take up the mystery that has bedeviled them."

— Boston Globe
"This fascinating new book reproduces a little-known manuscript that has been buried in the archives of Oxford's Bodleian Library for more than three hundred years."

— House & Garden
"Barrie Juniper and Hanneke Grootenboer are both good storytellers and efficient detectives. Their work covers history, botany, garden husbandry, handwriting in the seventeenth century, horticultural fashions, and the gardening legacy of the Tradescants. . . . [A] delightful book."

— Irish Examiner
"The Tradescants' Orchard reproduces a book of watercolor images of fruit that raises many questions, discussed ably by the authors. . . . Juniper and Grootenboer have assumed the roles of sleuths and delved into the historical context in which the paintings would have been created, looking at some of the major personages on the British horticultural scene at the time and at the evidence that can be gleaned from the volume itself. The result is an interesting and educational foray into seventeenth-century English social and cultural mores and gardening history, the lives of Elias Ashmole and the Tradescants and the creation of the Ashmolean Museum, as background for an investigation into how the volume of watercolors might have been created, as well as why and for whom."
— Huntia
or
Not Currently Available for Direct Purchase