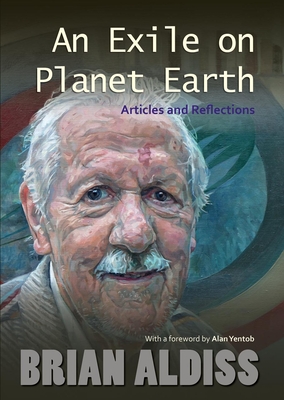 An Exile on Planet Earth (Hardcover)
Articles and Reflections
Bodleian Library, University of Oxford, 9781851243730, 179pp.
Publication Date: September 1, 2012
* Individual store prices may vary.
Description
Brian Aldiss is one of the great figures in science fiction. Classics in the genre, his books serve as portals to other worlds, captivating readers with strange and shocking narratives that have been a force for further experimentation within the genre. In addition to a highly successful career as a writer of both fiction and science fiction, Aldiss is also an accomplished artist and literary critic.
An Exile on Planet Earth presents a selection of Aldiss's essays that look back at the landmark events in his life. Writing with eloquence and raw honesty, Aldiss reveals unexpected connections between his life and literary work. From boarding school and boyhood summers spent alone at the shore comes the lonely boy playing on the beach in Walcot. The bitter break-up of Aldiss's first marriage is revealed to be the inspiration behind the post-apocalyptic Greybeard, in which a nuclear accident results in a world without children. Exile is a recurring theme throughout Aldiss's work, and the essays shed light on the ways in which he identified with this theme and constructed elaborate metaphors informed by it. Also included is Aldiss's introduction to H. G. Wells's War of the Worlds and an imagined conversation with English novelist Thomas Hardy.
For the many fans of Aldiss's weird and wonderful work, An Exile on Planet Earth offers a look at the man behind the books and short stories, including new insights into the events that fueled his creative talent, as well as reflections on his place in the genre and the cultural significance of science fiction as a whole.
About the Author
Brian Aldiss is a writer, artist, and critic. He has written more than three hundred short stories and seventy-five books, including Hothouse, Non-Stop, and the Helleconia trilogy.
Praise For An Exile on Planet Earth: Articles and Reflections…
 "What he gives us here is the reality that underlies the fiction: personal stories, often of pain, that illuminate the work."
— Alan Yentob, from the foreword
"Brian Aldiss has published something like a half-dozen volumes of essays in his long career, as well as a couple of fascinating autobiographies, but well into his eighties he still seems to be discovering new things about himself and his work. His newest collection, An Exile on Planet Earth, published in connection with the donation of Aldiss's archives to the Bodleian Library, revisits some familiar material—travel essays, H.G. Wells, his military service in WWI, his love of Mary Shelley, and his experiences with Kubrick and Spielberg—but also includes some fascinating insights into his own fiction and some provocative notions about SF in general, all loosely organized around the theme of alienation suggested by the title."
— Locus
 "Brian Aldiss is one of the most influential—and one of the best—science fiction writers Britain has ever produced."
— Iain Banks, author of Transition
"Masterful English prose."—Paul Kincaid, author of Strange Horizons
— Paul Kincaid, author of Strange Horizons
"The godfather of British science fiction."
— Sunday Times
or
Not Currently Available for Direct Purchase