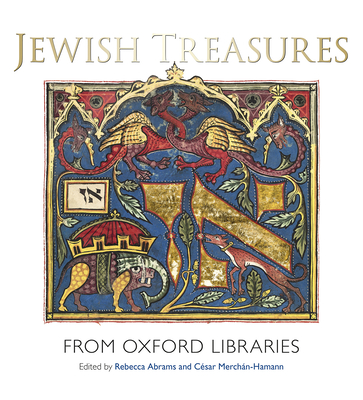 Jewish Treasures from Oxford Libraries
Hardcover

* Individual store prices may vary.
Description
Representing four centuries of collecting and a thousand years of Jewish history, this book brings together Hebrew manuscripts and rare books from the Bodleian Library and Oxford colleges. Highlights of the extraordinary collections include a fragment of Maimonides' autograph draft of the Mishneh Torah, the earliest dated fragment of the Talmud, exquisitely illuminated manuscripts of the Hebrew Bible, stunning festival prayer books, and one of the oldest surviving Jewish seals in England. Lavishly illustrated essays by experts in the field bring these outstanding works to life, exploring the personalities and diverse motivations of their original collectors.
 
Saved for posterity by religious scholarship, intellectual rivalry, and political ambition, these extraordinary collections also detail the consumption and circulation of knowledge across the centuries, forming a social and cultural history of objects moved across borders from person to person. Together, they offer a fascinating journey through Jewish intellectual and social history.
Praise For Jewish Treasures from Oxford Libraries…
"Jewish Treasures from Oxford Libraries [is] a handsome volume of coffee-table size. . . . After the shuttering of physical libraries during the pandemic, and as library budgets continue to shrink, it is right and good to remember the debt of gratitude we owe the great libraries and librarians for preserving our historical treasures—not to mention all those who brought this fine book into being."
— Jewish Review of Books

"Today, one of the greatest collections of Jewish books in the world happens to reside in the Bodleian Library, the main research library of the University of Oxford. Although the library's two largest bequests of Hebrew books came from Jewish collectors, many of the most precious Hebrew manuscripts were donated or sold to the Bodleian by Christian collectors. . . . In the most fascinating feature of Jewish Treasures­—a feature never before attempted in a comparable volume about a collection of Jewish books—each of the work's seven central chapters relates the story of one of the Bodleian's Hebrew collections and, even more interestingly, the career of the collector behind it."
— Mosaic Magazine

"A gorgeous book... Organized by chapters telling the stories of their Jewish and more often Christian collectors, it discusses, and shows in many beautiful plates, the greatest Jewish items in the Bodleian Library and Oxford colleges' libraries. The editors, Rebecca Abrams and Cesar Merchan-Hamann, combine Western history,Jewish history, art history, and Oxford history in this beautiful and fascinating book."
— Elliott Abrams
Bodleian Library, University of Oxford, 9781851245024, 304pp.
Publication Date: June 20, 2020
About the Author
Rebecca Abrams is Royal Literary Fund Fellow at Brasenose College, Oxford and author of The Jewish Journey: 4000 Years in 22 Objects.

César Merchán-Hamann is the Hebrew and Judaica curator in the Bodleian Library and director of the Leopold Muller Memorial Library at the University of Oxford.