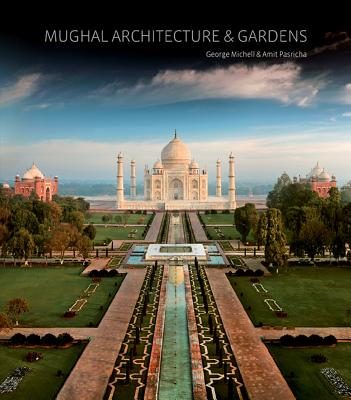 Mughal Architecture & Gardens
Hardcover

* Individual store prices may vary.
Description
Mughal Architecture & Gardens gives an insight into what is undoubtedly one of the most impressive groups of monuments and gardens ever to be ascribed to a single royal lineage. Innovative and inspirational, these 16th and 17th century constructions demonstrate the staggering wealth and power of those responsible for their creation, notably the emperors Akbar, Jahangir and Shah Jahan. Mughal architecture is a remarkable hybrid that fuses building forms and decorative schemes from Iran and Central Asia with long-established Indian practice. The most famous examples are the Red Fort in Dehli and Taj Mahal in Agra. This beautifully illustrated book outlines the history of Mughal architecture and gardens, from stylistic developments under different emperors, to the geometric origins of Mughal design and decoration. Now the gardens are mostly lost, but Michell carefully depicts how they would have been; their structures and layouts, the favoured varieties of colorful flowers and scented plants, and the laborious but innovative methods sometimes used to create running water in areas without natural springs and streams. The author gives particular attention to the major monuments and gardens in the imperial centers of Mughal power, namely Dehli, Agra, Fatehpur Sikri and Lahore. These sections are accompanied by specially commissioned architectural plans as well as over 250 stunning color photographs. Written by a leading authority on Indian architecture, this magnificent book is the quintessential guide to Mughal architecture and garden design.
ACC Distribution, 9781851496709, 401pp.
Publication Date: October 16, 2011
About the Author
George Michell is an architectural historian, specializing in ancient Indian architecture. He obtained his PhD from the School of Oriental African Studies, University of London, has directed courses on Asian architecture at the Architectural Association, London, and was co-editor of the journal Art and Archaeology Research Papers from 1972 to 1982. Since the 1980s, he has co-directed an international team of scholars and students at Vijayanagara, the medieval Hindu site in Karnataka. George Mitchell has also lectured at universities and museums throughout the USA, Europe, India and Australia. Among his many publications are The Royal Palaces of India, Islamic Heritage of the Deccan, Architecture of the Islamic World: Its History and Social Meaning and Palaces of Rajasthan. Amit Pasricha lives in New Delhi and comes from a family of photographers. A well-known architectural and social documentary photographer, his work has been exhibited in India, London and New York. His photographs have also been published in several books, including Dome over India: Rashtrapati Bhavan, Horizons: The Tata-India Century and India: Then & Now. Pasricha's most recent publication is the panoramic collector's edition, The Monumental India Book, winner of the Indian Tourism Award, 2008.
or
Not Currently Available for Direct Purchase