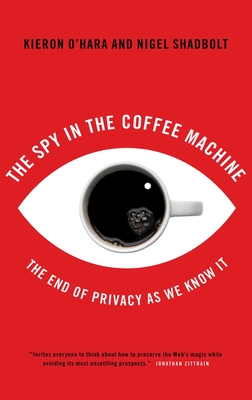 The Spy in the Coffee Machine (Paperback)
The End of Privacy as We Know It
Oneworld Publications, 9781851685547, 280pp.
Publication Date: March 1, 2008
* Individual store prices may vary.
Description
A startling exposé of how much Big Brother knows about you

We are entering a new state of global hypersurveillance. As we increasingly resort to technology for our work and play, our electronic activity leaves behind digital footprints that can be used to track our movements. In our cars, telephones, even our coffee machines, tiny computers communicating wirelessly via the Internet can serve as miniature witnesses, forming powerful networks whose emergent behaviour can be very complex, intelligent, and invasive. The question is: how much of an infringement on privacy are they? Exposing the invasion of our privacy from CCTVs to blogs, "The Spy in the Coffee Machine" explores what - if anything - we can do to prevent it from disappearing forever in the digital age, and provides readers with a much needed wake-up call to the benefits and dangers of this new technology.
About the Author
Author Kieron O'Hara is Senior Research Fellow in the Intelligence, Agents, Multimedia Group (IAM), in the Department of Electronics and Computer Science (ECS) at the University of Southampton. He is currently involved in the Office of Science and Technology's Cybertrust and Crime Prevention initiative. He is the author of two books in popular science and sociology: Plato and the Internet, and Trust: From Socrates to Spin. He also co-wrote the script for best-selling computer game Tomb Raider IV: The Last Revelation.

Nigel Shadbolt is Professor of Artificial Intelligence at the University of Southampton, UK, and was President of the British Computer Society in its 50th anniversary year 2006-2007. He is Chief Technology Officer of internet security firm Garlik, and a director of the Web Science Research Initiative. He is both a chartered psychologist and a chartered engineer, and sits on a number of UK national science and technology committees.
Praise For The Spy in the Coffee Machine: The End of Privacy as We Know It…
" A striking and readable book"
— Retain Security

"Shadbolt and O'Hara have kick-started a new debate about what we mean by privacy."
— The Sunday Times

"Timely and balanced, their book The Spy in the Coffee Machine is a scary treatise about the way technology has eroded privacy and continues to do so … The chief lesson of this excellent and potent short book is that we have to learn how to live with these actualities."
— New Scientist

"Though the questions around CCTV, blogs and the internet, and RFID (radio frequency identification) are complex - and without easy answers - the authors cover much ground, always readably"
— Professional Security Magazine

"this book will give anyone concerned about the growing number of CCTV cameras in our streets or the way young people expose their secrets on Facebook a sound appreciation of the wider issues.
— BBC Focus

"While critics have variously demanded control over the internet, the practical means have been ignored; O'Hara and Shadbolt readdress this, offering detailed accounts of how technology that threatens privacy can be used to protect it." Catherine Humble
— The Times Literary Supplement

"Offering a wealth of recent detail, O'Hara and Shadbolt provide a singular update and perspective on the accelerating predicament of privacy in the modern age."
— David Brin - Science fiction writer, futurist, and author of The Transparent Society: Will Technolog

"This forward-looking book will introduce you to concepts like the Semantic Web, AJAX, Web 2.0, and pervasive computing - all terms you need to know about to protect yourself online - AND to get the most out of the Internet. The Web we know today is only the beginning!"
— Robert Ellis Smith - Publisher of the Privacy Journal newsletter since 1974.

"Worried about the potential effect of new digital technologies on your personal privacy? Providing the most up-to-date information on this fascinating debate, the authors explore how technology has been infiltrating and changing our society."
— Fred Piper - Director of the Royal Holloway Information Security Group, University of London.

"Kieron O'Hara and Nigel Shadbolt have offered an engaging and thought provoking roadmap for the emerging field of Web Science. They crisply survey what lies ahead as the Web becomes ubiquitous, and they invite everyone -- not just academics and experts -- to think about how to preserve the Web's magic while avoiding its most unsettling prospects."
— Jonathan Zittrain - Professor of Internet Governance and Regulation, Oxford University

"The Spy in the Coffee Machine is a very engaging treatment of challenges to privacy in the Internet age. O'Hara and Shadbolt offer an insightful commentary on what technology can do and on what individuals can do to protect themselves from unwanted intrusions made possible by new digital technologies."
— Robin Mansell - Head of the Department for Media and Communications, London School of Economics and
or
Not Currently Available for Direct Purchase