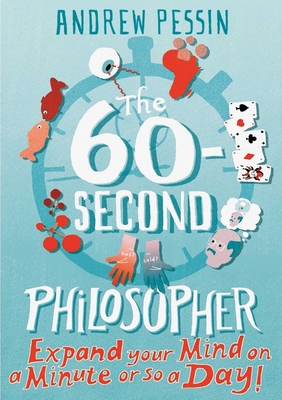 The 60-second Philosopher (Paperback)
Expand your Mind on a Minute or So a Day!
Oneworld Publications, 9781851686889, 144pp.
Publication Date: September 1, 2009
* Individual store prices may vary.
Description
The budding thinker's Little Book of Calm

Philosophy means "love of wisdom" in Greek. Unfortunately, as much as we all love wisdom, we don't all have the time to spend acquiring it! This fabulous little book provides the perfect antidote. Split into 60 one-minute chapters, Andrew Pessin offers you a snippet of philosophical wisdom everyday, giving you something to think about on your coffee break. Guaranteed to sharpen your mental faculties, as well as entertaining you with its witty humour, The Sixty-Second Philosopher will delight aspiring thinkers everywhere!
About the Author
Andrew Pessin is Chair of Philosophy at Conneticut College. He is the author of The God Question: What Famous Thinkers from Plato to Dawkins have said about the Divine. He has also appeared on the David Letterman show several times as "The Genius".
Praise For The 60-second Philosopher: Expand your Mind on a Minute or So a Day!…
"How many of the classic problems of philosophy can you solve on the commuting train? More than you might think, if Andrew Pessin's neat and provocative new book is anything to go by. The perfect start to thinking more deeply about life, the universe, and everything." - Timothy Chappell, Professor of Philosophy, The Open University "A pot pourri of philosophical ideas! Written with a deft hand and a light touch." -
— Martin Cohen, Author of 101 Philosophy Problems

"How many of the classic problems of philosophy can you solve on the commuting train? More than you might think, if Andrew Pessin's neat and provocative new book is anything to go by. The perfect start to thinking more deeply about life, the universe, and everything."
— Timothy Chappell - Professor of Philosophy, The Open University

"A pot pourri of philosophical ideas! Written with a deft hand and a light touch."
— Martin Cohen