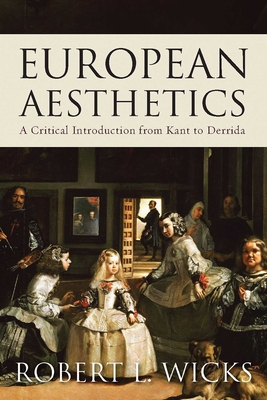 European Aesthetics
A Critical Introduction from Kant to Derrida
Hardcover

* Individual store prices may vary.
Other Editions of This Title:
Paperback (4/9/2013)
Description
The only book to cover the evolution of one of the most important areas of philosophy

The birth of the Enlightenment heralded a new reverence for the power of reason. But as science flourished in Europe, violence and brutality did not abate. In the French Revolution, thousands were guillotined and the death toll was vast. Philosophers asked whether we had become dehumanised by rationality and abstract political theory. Did art and literature provide a way to rediscover our soul and our compassion? Or could art be corrupted just as easily, used as propaganda to justify abhorrent acts?

 

In this masterful survey of European aesthetics over the last two hundred years, philosopher Robert L. Wicks argues that it is this tension between creativity and rationality that has characterised debate in the subject. Presenting the theories of sixteen seminal thinkers, including Kant, Nietzsche, Freud, and Derrida, European Aesthetics shows how each philosopher's theory of art was motivated by broader topics in their thought, concerning who we are and what a good society should resemble.

 

With colour photographs and written in a lively but objective tone, Wicks analyses important pieces of art, makes critical comparisons between thinkers, and offers a bold conclusion on our contemporary aesthetic situation. In an internet age, where we are presented with endless opportunity, but also startling existential questions, this is the definitive account of the evolution of continental thought in this hugely relevant and exciting area of philosophy.
Praise For European Aesthetics: A Critical Introduction from Kant to Derrida…
"A masterful survey. Succinct, lucid, and replete with illuminating illustrations and comparisons, the book makes complex theories comprehensible for non-experts. Bold and compelling."
— Kathleen Higgins - Professor of Philosophy, University of Texas, Austin

In this masterful survey Wicks demonstrates the centrality of aesthetics in the recent history of philosophy, linking developments in European aesthetics directly to philosophers' views on the status of reason. Succinct, lucid, and replete with illuminating illustrations and comparisons, the book makes complex theories comprehensible for non-experts while balancing considerations that recommend specific views with forceful lines of criticism. Philosophical colleagues will find Wicks' rendering of the history of continental aesthetics a bold and compelling narrative with which alternative accounts will have to contend.
— Kathleen Higgins - Professor of Philosophy, University of Texas, Austin

A highly accessible and richly contextualized guide to the history of Continental European aesthetics... A valuable resource for historically-oriented courses in aesthetics and philosophy of art.
— Sandra Shapshay - Assistant Professor of Philosophy, Indiana University

"Robert Wicks has an encyclopedic knowledge of the history of continental European aesthetics between 1790 and 1990. His book will be of use to both scholars and advanced students."
— Dabney Townsend - Secretary-Treasurer/Executive Director, American Society for Aesthetics

Plotting the history of European aesthetics is no easy task, given the subject's many branches and its engagement with metaphysics. This only makes the need for a critical introduction all the more urgent. But the wait is over. Taking the contest between art and reason as his central theme, Wicks has produced a series of clear and incisive introductions to sixteen of the subject's key thinkers. Each chapter is a well-judged combination of historical background, attention to how a philosopher's aesthetic theory sits within their overall work, critical comparisons between philosophers, and thinking through examples. This book will be exceptionally useful to readers new to the field who want to become familiar very quickly with the rich network of arguments that defines European aesthetics from Kant to Deleuze.
— Clive Cazeaux - Professor of Aesthetics, Cardiff Metropolitan University

"Matthews has a gift for finding the simple, fascinating stories at the heart of concepts transforming the modern world. Scientific sophisticates will appreciate this book as an enjoyable summary of developments in diverse fields, while newcomers will be mesmerized by how bright ideas make the world go round."
— Adam Thorpe
Oneworld Publications, 9781851688180, 360pp.
Publication Date: April 1, 2013
About the Author
Robert Wicks is Senior Lecturer in the Department of Philosophy at the University of Auckland, new Zealand. He specialises in Continental European philosophy and philosophical aesthetics, and has published both books and articles in these areas, including 'Nietzsche' (Oneworld 2002).
or
Not Currently Available for Direct Purchase