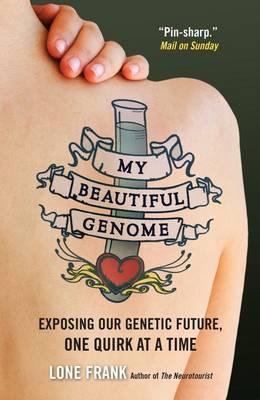 My Beautiful Genome
Exposing Our Genetic Future, One Quirk at a Time
Paperback

* Individual store prices may vary.
Other Editions of This Title:
Paperback (10/3/2011)
Description
Internationally acclaimed science writer Lone Frank swabs up her DNA to provide the first truly intimate account of the new science of consumer-led genomics. She challenges the business mavericks intent on mapping every baby's genome, ponders the consequences of biological fortune-telling, and prods the psychologists who hope to uncover just how much or how little our environment will matter in the new genetic century - a quest made all the more gripping as Frank considers her family's and her own struggles with depression.
Praise For My Beautiful Genome: Exposing Our Genetic Future, One Quirk at a Time…
"A probing biological memoir… Refreshing [and] wonderfully poetic."
— Publishers Weekly

"Readers will be intrigued by Frank's witty, engaging account of the possibilities of emerging genetic sciences as well as her thoughtful considerations of the philosophical and ethical dimensions of the widespread use of genetic data."
— Library Journal

"My Beautiful Genome covers some of the most interesting controversies in biology today, including designer babies, brain imaging, and even whether or not we have free will. It's an enthralling read."
— New Scientist

"The huge research effort to understand the complexity of the genome is throwing up new insights into the nature of humanity, as the Danish science writer Lone Frank shows in My Beautiful Genome, her excellent look into the postgenomic world…. Fascinating."
— Financial Times

"A fascinating exploration of a subject that is not going to go away -- the influence of our genes on the way we are both medically and socially… Frank's light style and storytelling verve… make this an enjoyable read." Brian Clegg
— PopularScience.co.uk

"It's not often you can wholeheartedly recommend a book… but this is it."
— Daily Mail

"A pin-sharp, lively memoir-cum-investigation… Frank's discoveries make for some truly tingling moments."
— The Mail on Sunday

"The story of DNA told through one woman's quest to find out if the secret to her depression lies in her genes… A must-read."
— BioNews

"Packed with juicy informative nuggets … weird, wonderful and very funny."
— Independent on Sunday

"I thoroughly enjoyed this book and would not hesitate to recommend it as both a personal and a book group read."
— New Books

"I haven't seen Lone Frank's entire genome, but it's obvious from the first page of My Beautiful Genome that she's got the SKFF2 gene (Sharp as a Knife and Friggin' Funny, Too). No decoding needed here: I love this book."
— Mary Roach

"Before I read My Beautiful Genome I could not decide if I would ever get my genome analyzed, but now I'm sending in my spit ASAP. Lone Frank is one of the surest science writers I've ever read. She not only explains with great clarity the technical twists and turns of the science behind unraveling the double helix, she does so in such a page-turning, conversational style that once I started, I couldn't stop. Read this book—your genetic future may depend on it."
— Michael Shermer - New York Times bestselling author of The Believing Brain and columnist, Scientific

"Provocative, wryly humorous, illuminating, deeply personal – if you want to know more about the world of consumer genetics, into which we appear to be unstoppably heading, this is the book for you."
— Frank Ryan

"As Lone Frank compellingly argues, the advent of 'personal genomics' promises to be as socially and philosophically transformative in the next twenty years as 'personal computing' was in the last twenty. My Beautiful Genome probes and explores the critical questions and unexpected nuances this new science raises about who exactly we are—as a species, and as individuals."
— Brian Christian - author of The Most Human Human
Oneworld Publications, 9781851689149, 336pp.
Publication Date: May 25, 2012
About the Author
Lone Frank holds a PhD in neurobiology and was previously a research scientist in the biotechnology industry. An award-winning science journalist and TV documentary presenter, she has written for such publications as Science and Nature.
or
Not Currently Available for Direct Purchase