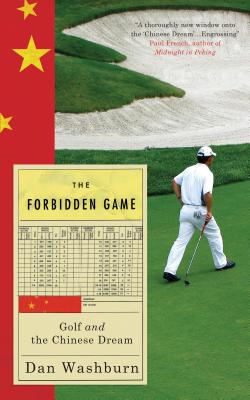 The Forbidden Game (Paperback)
Golf and the Chinese Dream
ONEWorld Publications, 9781851689484, 316pp.
Publication Date: July 15, 2014
* Individual store prices may vary.
Description
In China, just because something is banned, doesn't mean it can't boom... Statistically, zero percent of the Chinese population plays golf, still known as the "rich man's game" and considered taboo. Yet China is in the midst of a golf boom -- hundreds of new courses have opened in the past decade, despite it being illegal for anyone to build them. Award-winning journalist Dan Washburn charts a vivid path through this contradictory country by following the lives of three men intimately involved in China's bizarre golf scene. We meet Zhou, a peasant turned golf pro who discovered the game when he won a job as a security guard at one of the new, exclusive clubs and who sees himself entering the emerging Chinese middle class as a result; Wang, a lychee farmer whose life is turned upside down when a massive, top-secret golf resort moves in next door to his tiny village; and Martin, a Western executive maneuvering through China's byzantine and highly political business environment, ever watchful for Beijing's "golf police." The Forbidden Game is a rich and arresting portrait of the world's newest superpower and three different paths to the new Chinese Dream.
About the Author
Dan Washburn is an award-winning reporter and managing editor at the Asia Society. His writing has appeared in the FT Weekend Magazine, the Atlantic, The Economist, ESPN.com, Foreign Policy, Golf World, Slate, the South China Morning Post, and other publications. Washburn's work has been featured in the anthologies Unsavory Elements: Stories of Foreigners on the Loose in China and Inside the Ropes: Sportwriters Get Their Game On. He is also the founding editor of Shanghaiist.com, one of the most widely read English-language websites about China. After almost a decade spent living in China, he now lives in Brooklyn, New York.