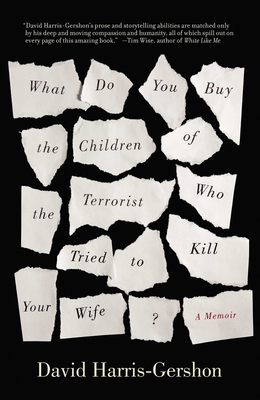 What Do You Buy the Children of the Terrorist Who Tried to Kill Your Wife? (Paperback)
ONEWorld Publications, 9781851689965, 332pp.
Publication Date: September 3, 2013
* Individual store prices may vary.
Description
David Harris-Gershon and his wife, Jamie, moved to Jerusalem full of hope. Then, in the midst of a historic cease-fire between Israel and the Palestinians, a bomb shrieked through Hebrew University's cafeteria. Jamie was hurled across the room, her body burned and sliced with shrapnel; the friends sitting next to her were instantly killed. David was desperate for answers--why now? why here? why my wife? But when a doctor handed him some shrapnel removed from Jamie's body, he refused to accept that this bit of metal made him "one of us"--another traumatized victim who would never be able to move on. Instead, he dug into Israeli government records to uncover what triggered the attack, then returned to East Jerusalem to meet the terrorist and his family. Part memoir, part political thriller, part expose of the conduct of the peace process, this fearless debut confronts the personal costs of the Middle East conflict--and reveals the human capacity for recovery and reconciliation, no matter the circumstance.

About the Author
David Harris-Gershon is a popular online columnist for Tikkun magazine, the Jersualem Post, and Daily Kos. He received his MFA from the University of North Carolina, Wilmington, and his essays, creative writing, and poetry have been published in Colorado Review, Passages North, Burnside Review, Pebble Lake Review, and many others.