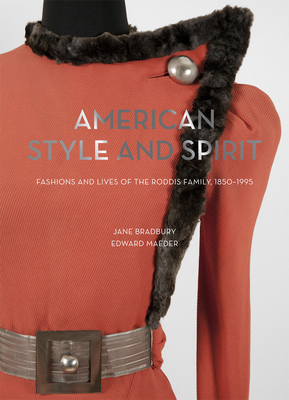 American Style and Spirit (Hardcover)
The Fashions and Lives of the Roddis Family, 1850-1985
Victoria & Albert Museum, 9781851778898, 304pp.
Publication Date: November 1, 2016
* Individual store prices may vary.
About the Author
Jane Bradbury studied at Sotheby's Works of Art Course in London and has an MA from New York University's Institute of Fine Arts.
Edward Maeder has held curatorial positions at the Fashion Institute of Technology, New York, and the Los Angeles County Museum of Art, and was founding director of the Bata Shoe Museum in Toronto.
Praise For American Style and Spirit: The Fashions and Lives of the Roddis Family, 1850-1985…
"There is nothing more powerful and potent than clothing and this book celebrates the extraordinary nature of ordinary lives, and the power of clothing to bring history to life."
— Hamish Bowles, International Editor-at-Large, Vogue
"Fascinating insights into the significance of fashion in the lives of ordinary men and women."
— Valerie Steele, Director and Chief Curator, Museum at the Fashion Institute of Technology, New York
"This stunning book perfectly weaves together the fabric of fashion with the social history of America."
— Karen Augusta, Fashion Appraiser and Owner, Augusta Auction Company
"An extraordinary trove of clothing unearthed from the attic of a chic but thrifty lumber scion named Augusta Roddis. . . . Jane Bradbury wrote the substantive and mesmerizing book."
— The New York Times
"More than 200 perfectly preserved garments and accessories, along with other materials, from a century and half of collecting. The story of the family that saved them and photographs of the items along with notes on fashion salons and a helpful glossary, make this book something special."
— St. Louis Post Dispatch
"Detailed photos of the garments and five years of meticulous research about each piece are woven together to reveal stories about Marshfield and the nation. . . .The book brims with evocative descriptions of the garments and their original owners spanning 150 years of fashion and social history."
— Marshfield News-Herald
"This magnificent survey of three generations of Roddis women and their families certainly encapsulates the changing times of American life."
— "The Culture Trip" blog
"Don't be concerned that you've never heard of the Roddis family, as that is part of the point. . . .we are given a look at what many 'average' Americans were wearing in the years the book covers. . . .I am enjoying this book so much."
— "The Vintage Traveler" blog
"The Roddis collection, now housed at the Henry Ford Museum in Dearborn, Michigan, is a record of three generations' clothes, accessories and related ephemera, which provide a fascinating insight into upper-middle-class American life from the 1850s to the 1990s. This rich account of personal and peer-group
taste is not just an absorbing micro-history; it is of broader sociological interest, and tells us much about the role played by dress in (auto)biography and memory."
— Times Literary Supplement
or
Not Currently Available for Direct Purchase