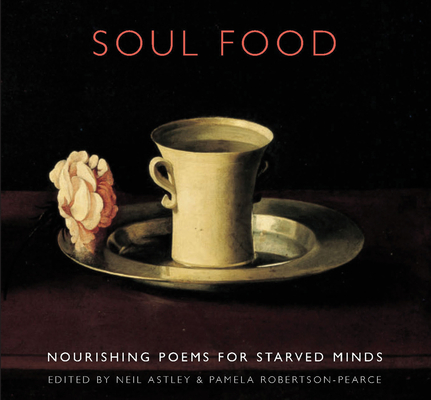 Soul Food
Nourishing Poems for Starved Minds
Paperback

* Individual store prices may vary.
Description
"Soul Food" is a feast of thoughtful poems to stir the mind and feed the spirit. Drawn from many traditions, ranging from Rumi, Kabir and Blake, to Rilke, Emily Dickinson and Paul Celan, this wide-ranging selection includes enormously varied work by celebrated contemporary poets such as Jane Hirshfield, Denise Levertov, Thomas Merton and Mary Oliver, as well as by many lesser-known writers from all periods and places. The anthology opens with a series of poems on human life and spiritual sustenance, starting with Rumi: 'This being human is a guest house./Each morning a new arrival...'. The poems which follow explore many ways of keeping body and soul together, offering food for thought on knowing yourself, living with nature, who or what is God...All are universal illuminations of the meaning of life, speaking to readers of all faiths as well as to searchers and non-believers. "Soul Food" shows how poetry can help feed our hunger for meaning in times of spiritual starvation.
Bloodaxe Books, 9781852247669, 160pp.
Publication Date: May 24, 2007
About the Author
Neil Astley is the editor and founder of Bloodaxe Books. He has published over 20 other anthologies, most notably the Staying Alive trilogy and three collaborations with Pamela Robertson-Pearce, Soul Food (2007) and the DVD-anthologies In Person: 30 Poets (2008) and In Person: World Poets (2017), as well as two novels, The End of My Tether (Scribner), which was shortlisted for the Whitbread First Novel Award in 2002, and The Sheep Who Changed the World (Flambard, 2005). He has lived in the North East since 1975, latterly in Northumberland's Tarset valley. Pamela Robertson-Pearce is an artist, filmmaker and translator. Her films include IMAGO: Meret Oppenheim (1996), on the artist who made the fur-lined teacup, and Gifted Beauty (2000), about Surrealist women artists including Leonora Carrington and Remedios Varo. IMAGO: Meret Oppenheim won several awards, including the Swiss Film Board's Prize for Outstanding Quality and the Gold Apple Award at the National Educational Film and Video Festival in America. She has shown her work in solo exhibitions in New York and Provincetown, and in various group shows in the US and Europe. Born in Stockholm, she grew up in Sweden, Spain and England, then lived mostly in America - also working in Switzerland, Norway and Albania - before moving to Northumberland. She co-edited the anthology Soul Food: nourishing poems for starved minds (Bloodaxe Books, 2007) with Neil Astley, and worked with him on the DVD-books In Person: 30 Poets (Bloodaxe Books, 2008) and In Person: World Poets (Bloodaxe Books, 2017), filming poets whose work is included in the two anthologies.