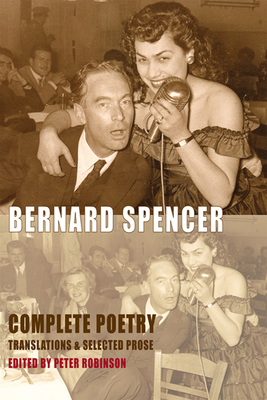 Complete Poetry, Translations & Selected Prose
Paperback

* Individual store prices may vary.
Description
Bernard Spencer (1909-63) was a distinctive voice in 20th-century English poetry, and a central figure in the Personal Landscape group of wartime Cairo writers. He spent much of his life working for the British Council, in Greece, Egypt, Italy, Spain, Turkey and Austria, the settings for many of his poems. He was among the first translators of George Seferis into English, and his expatriate colleagues included Lawrence Durrell and Olivia Manning. A recurrent theme in his poetry is a particular sense of gregarious loneliness, of being someone apart. Living for many years in non-English-speaking communities, he became, quite consciously, 'a stranger here', a poet whose subtly inventive techniques and 'respect for the Object', as Durrell put it, served to fix and define modes of personal, cultural and political unease. He was to publish just two full collections, 'Aegean Islands and Other Poems' (1946) and 'With Luck Lasting' (1963), during his lifetime. Based on Roger Bowen's pioneering 'Collected Poems' (OUP, 1981), this new edition of Spencer's works is the first to include all his poetry, his translations from George Seferis, Odysseus Elytis and Eugenio Montale (made alone, or in collaboration with Lawrence Durrell and Nanos Valaoritis), and selections of his prose - including critical and travel writings, memoirs, interviews, occasional comments on poetry, and his obituary for Keith Douglas. Wherever possible the texts are derived either from manuscript and typescript holdings in the poet's principal archive at the University of Reading and others dispersed elsewhere, or checked against those various sources. The book has an introduction by poet, translator, and literary critic Peter Robinson as well as extensive notes on the published texts and a complete bibliography of Spencer's writings.
Bloodaxe Books, 9781852248918, 351pp.
Publication Date: February 1, 2011
About the Author
Charles Bernard Spencer was born in Madras, India, in November 1909. He came to England at the age of two and was brought up by relatives and guardians. He attended Marlborough School, where he met Louis MacNeice and John Betjeman. After graduating in 1932 from Corpus Christi College, Oxford, with a degree in Greats, he worked in a number of teaching and other jobs before joining the British Council in 1940. In August 1936, he married Nora Gibbs, but they were to be separated between 1940 and 1945, she in London, he in Greece and then Cairo, thanks to the vicissitudes of war. Together on his posting to Palermo, Sicily, in 1946, she developed TB and died in Rome the following June. Spencer himself then underwent a painful cure for the same disease in Switzerland. There followed postings to Turin, Madrid, Athens, Ankara, Madrid again, and finally Vienna. He married Anne Marjoribanks in September 1961 and their son Piers was born in February 1963. His second collection 'With Luck Lasting' was a Poetry Book Society Recommendation that summer. While on holiday in Venice, Spencer began to suffer from an undiagnosed illness. Back in Vienna, feverish and with a high temperature, he walked out of the clinic where he was under observation and would be discovered with head injuries beside suburban railway lines in the early hours of 11 September 1963. The exact circumstances of his death have never been fully explained. Roger Bowen's edition of Spencer's 'Collected Poems' was published by OUP in 1981. His 'Complete Poetry, Translations and Selected Prose', edited by Peter Robinson, is published by Bloodaxe Books in 2011.